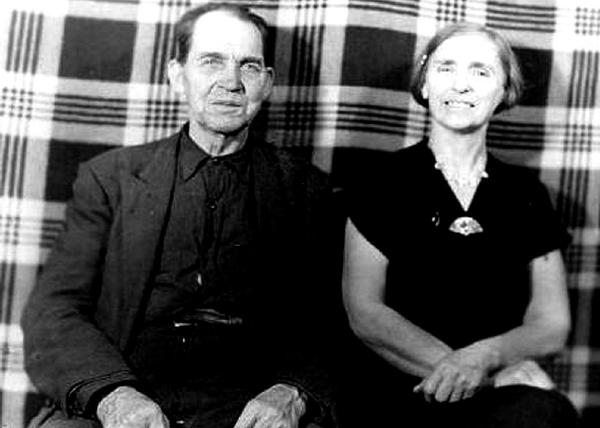 Samuel Clayton and Flora Gay Bell Husk
of Husk Ridge and Barnes Run (Rocksdale)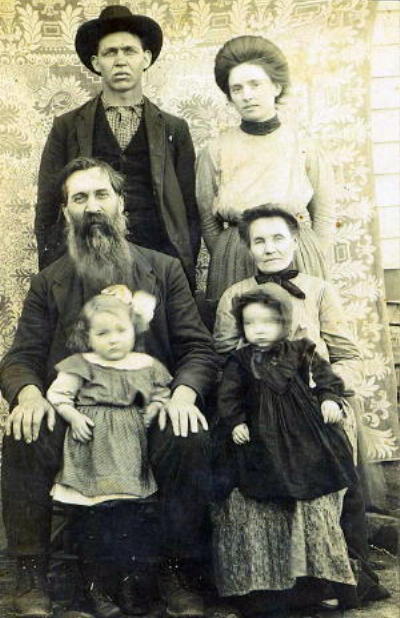 The Husk Family (Standing) is Samuel Clayton and Flora Gay Husk (Seated) is Samuel A. and Susanna Husk, his parents; the little girl standing is Susie Husk and the baby is Samuel George Husk. They are all buried in the Husk Cemetery on Husk Ridge, Calhoun County. Susie is buried in Barberton Ohio. The Husks were tough, independent, hard-working people, carving a living from some of the roughest land in the county.
Submitted by Debbie Mechling of Newton Falls, Ohio
Bob Weaver
"Clat" Husk wandered from his parents home in the Husk Ridge country to build a small jenny lind house off lower Barnes Run (Rocksdale), where he and his wife raised a large family.
His house had a large rock cellar, outhouse, and other buildings with a dug well. Nearby was a large garden plot.
His son George moved an ancestral log cabin from the Husk Ridge to reconstruct it near his father's dwelling.
Remnants of "Clay" Husk jenny lind
house where he raised a large family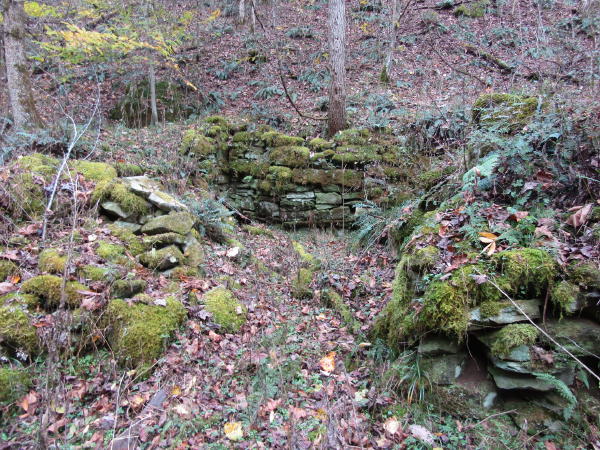 Large stone cellar house near dwelling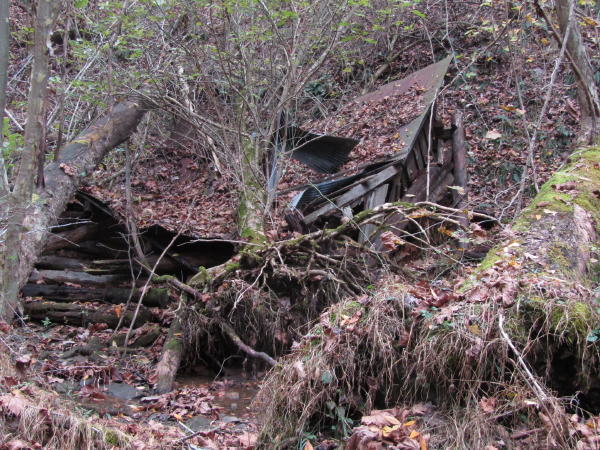 Early Husk long cabin moved to site by Husk's
son, a short distance from father's residence
Samuel Clayton Husk Jr. (1887-1955), was the son of Samuel Clayton Husk, who married 16-year-old Flora Gay Bell (1889-1956) in 1905, and had at about ten children.
Sons, Steven, Leander, Clayton Junior, Simon and George Husk; Daughters, Dorothy Westfall, Edith Mace, Susie Craddock, Leah Thompson and Jean Webster.