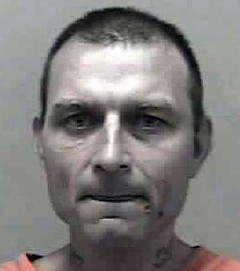 West Virginia State Police confirm that Ronald Lee Boggs (left) died Friday in a shooting in a remote area near the town of Clay known Old Dump Road.

The 46-year-old man, known to local authorities, suffered a single gunshot wound to the chest.

Troopers say it happened at a rock outcropping, described as a cave-like structure, the man living under a tarp.

It happened near the Reed-Stephenson-Pierson Cemetery, near where Clay meets Maysel at the top of a mountain north of the town.

Police added they do not believe this was a random killing.

Boggs has a significant arrest record, mostly related to drugs.

Sources said one or two women were at or near the scene, one calling 911 about 8:30 a.m. Friday, both now described as witnesses.

There's no suspect information at this time.

Clay citizen's have said that about a dozen homeless individuals are living in Clay's downtown area.