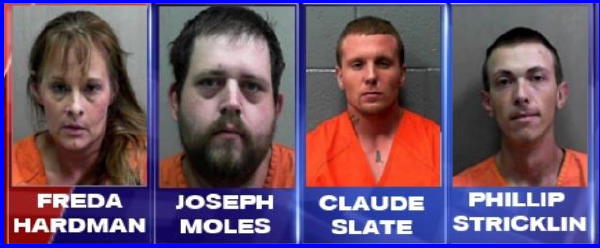 Four people are facing charges in Roane County in connection to a stolen vehicle incident.
Roane County Sheriff's Deputies say Tuesday they arrested Phillip Stricklin, Freda Hardman and Joseph Moles. Claude Slate was arrested Wednesday in Kanawha County.
Deputies say they received a report of a stolen 2017 GMC Yukon that was located and disabled by OnStar on Cottontree Road.
While en route to the stolen vehicle, deputies say they learned that the vehicle was reported stolen out of Wood County and that the vehicle was believed to have been used in a drive-by shooting incident in Kanawha County on Oct. 9.
Deputies found Stricklin and Hardman in the vehicle. They say Moles was soon located walking away from the vehicle.
Deputies say Claude Slate is believed to be the subject involved in the drive by shooting incident. He was also wanted on Department of Corrections parole violations. Deputies say he was arrested in Kanawha County early Wednesday morning.
Hardman and Moles are being held in the Central Regional Jail. Slate is being held in the South Central Regional Jail. He is facing charges out of Roane, Kanawha and Wood counties.