UPDATE 10/9/2017 - The investigation into a weekend murder in Clay County goes on, but so far State Police have been unable to produce a motive.

Jody Thomas, 41, was found shot to death at a home in the Ovapa community of Clay County early Saturday morning. The discovery was made by her boyfriend David Lanham. The man State Police suspect killed her was David's son, Samuel Lanham, 25.

"From what we're gathering, it was the father's girlfriend," said Corporal. R.R. Cervera at the Clay County Detachment of the State Police.

The investigation took a deadly turn on Saturday when the suspect, Samuel Lanham, was discovered in Charleston and led Charleston Police and Troopers on a high speed chase through the Capital city exchanging gunfire along the way.

The pursuit ended at the intersection of Leon Sullivan Way and Washington Street East in Charleston with gunfire from officers which killed Lanham. Lanham struck another car at the intersection, sending two occupants of that vehicle to the hospital.

As for a motive, Trooper Cervera said so far they've not been able to piece together what happened.

"It's still under investigation," he said. Lanham's father said he'll always remember Thomas as a great mother. They have two children together.

Family members describe Thomas as a "good-hearted" person and say the circumstances surrounding her death make the situation even harder to deal with.

State Police say Samuel Lanham had a history mental and drug problems.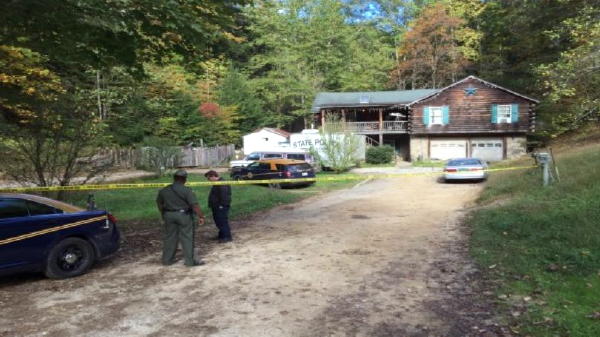 Jody Thomas was shot to death in her Laurel Fork Road Home
Photo courtesy of WSAZ News Staff
UPDATE 10/7/2017 5 PM - A police chase ends in crash in downtown Charleston Saturday afternoon, with the alleged shooter of a Clay County woman shot to death by police.
The police chase ended with a crash into Charleston Capitol Hotel.
Police said the suspect in Saturday morning's Clay County murder of Jody Thomas was shot and killed following a police chase.
Police said the suspect was Samuel Lanham, 25.
The police pursuit and crash happened about 4 p.m., ending with a Volkswagen driven by a suspect riddled with bullets.
Lanham was heading at a high speed towards the Doo Wop Festival on Kanawha Boulevard while running from Charleston police and Kanawha County deputies.
Metro 911 dispatchers said Lanham crashed head on into an oncoming vehicle and then into Charleston Capitol Hotel, Leon Sullivan Way.
Police said two people in the oncoming vehicle were injured. Dispatchers also said more shots were exchanged after the crash.
Lanham stole Thomas' car after he allegedly killed her, according to State Police First Sgt. Okey Starsick. Lanham's father was dating Thomas. Family members told police Lanham had a history of mental health disorders and of drug use, Starsick said.
A Kanawha County deputy spotted Lanham in North Charleston Saturday afternoon and started chasing him. As the chase went on, Lanham shot at officers several times and brandished a shotgun out of the window of his vehicle.
Officers pursued him out of Charleston, north to Big Chimney and back to Charleston.
Police said any time they would get near him, he would brandish the weapon.
Coming back into Charleston from Greenbrier Street, Cooper said Lanham was barreling down Kanawha Boulevard toward a crowd of hundreds of people at the Rod Run & Doo Wop car show. He turned, though, driving the wrong way down several one-way streets.
As he came to the Leon Sullivan Way intersection, Lanham crashed into another white car going through the intersection and rammed into the hotel. Police expect the two people riding in a white car to be OK. He brandished the weapon one last time before cops shot him.
"They emptied many bullets in him, a lot of bullets," said an eyewitness, with no one in the hotel injured.
CLAY WOMAN SHOT TO DEATH IN HER HOME - Police Looking For Suspect
UPDATE 10/7/2017 2 PM - West Virginia State Police say a woman is dead after a shooting in Clay County. The shooting happened on Laurel Creek Road around 6:30 a.m. Saturday, troopers say Jody Thomas was found shot dead at her house when they arrived.
Police are saying multiple shots were fired in the home, indicating they believe that someone close to the woman shot her.
WVSP are looking for a male family member as a person of interest but are not releasing a description of that person yet.
No other details available.
CLAY AUTHORITIES RESPONDING TO SHOOTING EARLY SATURDAY
10/7/2017 8:30 AM - Clay County authorities responded to a shooting about 6:30 a.m. Saturday.
First reports indicate the shooting was in the Ovapa area, unconfirmed reports indicating a woman was dead.
The Herald is attempting to confirm details.