A Spencer man was arrested Friday morning after a standoff with police on Cabot Drive near Spencer.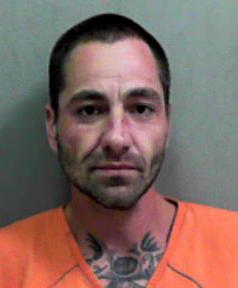 West Virginia State Police First Sgt. O. S. Starsick said Matthew Starr Flanders, 34, of Spencer, admitted that he had consumed methamphetamine before he was involved in a standoff with authorities.
911 dispatcher received a call about 10:45 p.m. Thursday of shots fired on Cabot Drive, a rural area off Spring Creek.
West Virginia State Police, sheriff's deputies and local police arrived and approached a neighbor for information. Additional shots were fired by Flanders inside the home as police approached the neighbor near the home, Starsick said.
Flanders reportedly began firing shots at officers.
Flanders refused to surrender after a state police special response team deployed a robot to communicated with him. Tear gas was then deployed after the standoff lasted several hours. Police then retreated and a standoff started.
Flanders barricaded himself in a room and was shooting inside the home periodically toward the front of the house, Starsick said.
Police deployed a robot to make contact, and the suspect responded with cursing and shooting and that's when police deployed tear gas.
The suspect exited the house and surrendered about 4 a.m. Friday saying he had consumed meth earlier.
Flanders was transported to Central Regional Jail where bond has been set at $250,000.
Flanders will be charged with possession of a firearm by prohibited person, multiple counts of wanton endangerment and other possible charges, Starsick said.
No injuries were reported.