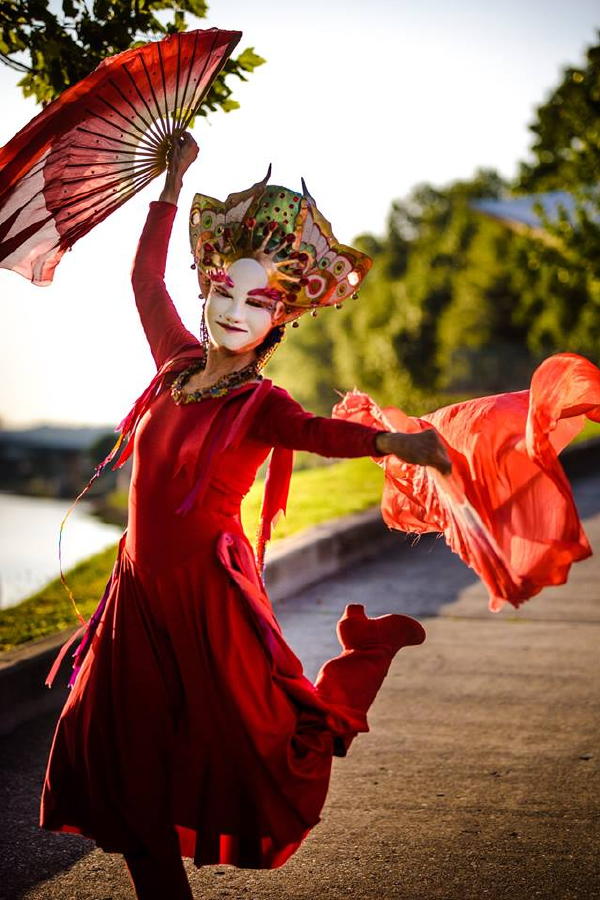 Jude at Charleston's FestivALL as the FestivALL Princes
photo by Chase Henderson
The Tamarack Foundation for the Arts has announced that visual and performing artist Jude Binder has received the organization's 2017-18 Master Artist Fellowship.
Binder's work was selected from seventeen nominee applications by an independent committee comprised of fellow West Virginia-based master artists and leading national arts experts. Binder will receive a financial award and a year-long national marketing campaign that will illuminate her vast and varied career.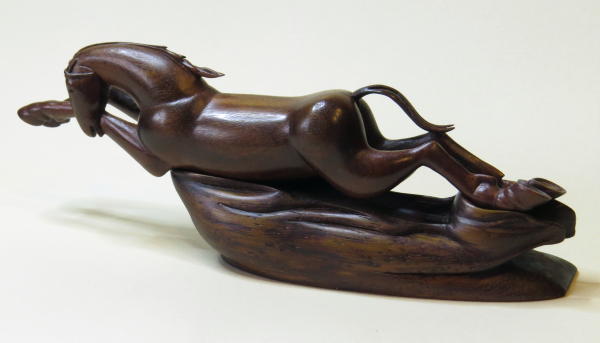 Jude Binder's 1979 woodcarving Rosewood Mare hand
carved Brazilian Rosewood on an African Padauk base
Photo by Bill Bailey
As a master woodcarver, mask maker, painter, graphic artist, dancer, actor and co-founder and Artistic Director of Calhoun County's own school for the arts Heartwood in the Hills, Binder exemplifies the compelling and multidimensional paths professional artists build to formalize their careers.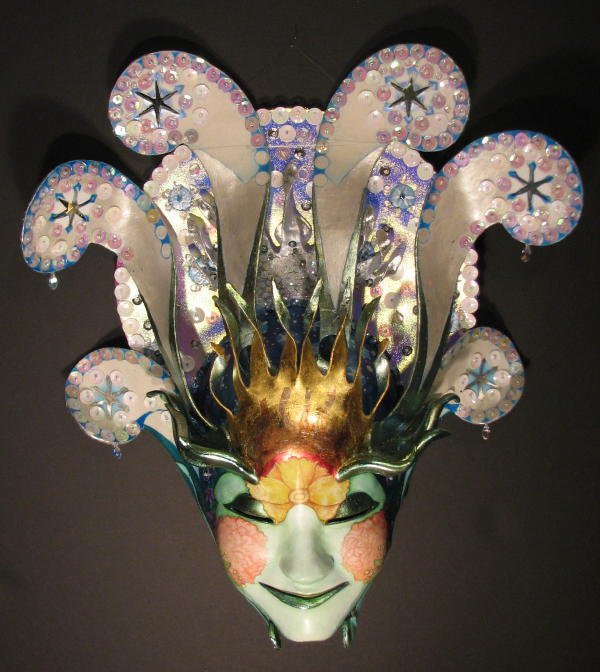 Jude Binder's Spring Comes Up Tarlatan mask, made of
modeling paste, painted and decorated with gold and metal leaf
Photo by Bill Bailey
Binder's training and professional career in visual and performing arts spans more than 65 years. She received training from instructors at the Corcoran Gallery of Art (Washington, DC); Pennsylvania Academy of Fine Arts (Philadelphia, Pa.); Washington School of Ballet(Washington, DC); School of American Ballet (new York, NY) and with Calhoun County woodworker Roy Geho, among others.
She is the recipient of numerous awards in diverse creative disciplines such as filmmaking, performance and wood carving, plus a Governor's Award for the Arts (WV division of Culture and History) and a Secretary Star Lifetime Achievement Award for Commitment to Education and the Arts (WV Department of Education and the Arts).
Tamarack Foundation for the Arts Executive Director Renee Margocee says, "Jude is a master artist, a supremely gifted performer, and a vibrant contributor to the community. I am thrilled the foundation will be devoting time to putting a spotlight on her illustrious career."
Beginning on September 9th and continuing through December 9th of this year, Jude will be devoting the majority of her time to directing and teaching classes at Heartwood in the Hills on Broomstick ROAD in Calhoun County. Program schedules for Heartwood's Fall 2017 (Heartwood's 35th Fall Program) are available by calling 304-354-9181.