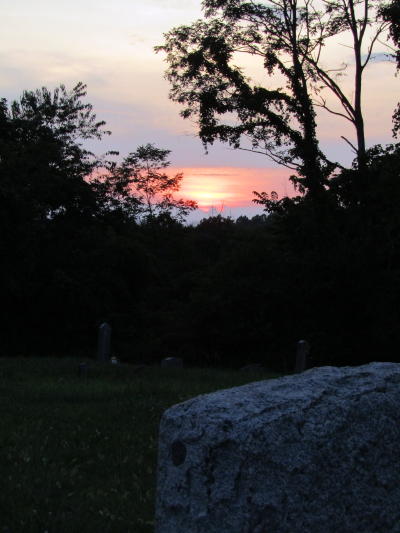 By Bob Weaver 2017
I was talking with a neighbor the other day about the demise of a mutual acquaintance, after which they exclaimed, "My god, I didn't know they were dead."
Numerous folks have passed in our tiny county who did not merit an obituary, a course chosen by the living. It is a downside for historians and genealogists who have long relied on the documentation.
As the century progresses with many folks being cremated, quick disposal, and fewer not having a funeral service, remembering their lives could be more difficult.
The rituals to which we are accustomed are fast disappearing in an increasingly secularized society. A number of years ago, the deceased would have piles of flowers on their graves. That tradition has changed.
Are we moving toward treating death like a blip, taken in stride like stopping at McDonalds and making a purchase?
The cremation rate in the USA has increased to about 50%, with West Virginia about 35%.
The typical traditional funeral service costs the average family between to $8,000 - $10,000, with the cost of cremation being a fraction of those costs.
In the 21st Century culture is addicted to "face time" to an electronic device, creating a sense of relationship to other human beings, while practicing conspicuous consumption of material things (the entire economy is based on it), and entertaining ourselves to death. The human race, at least in the Christian World, is rapidly changing how we "celebrate" or mourn the dead.
In the 19th and 20th centuries, up through the 1950s, Calhoun men would lay down their hoes and shovels and women would leave their housework to either walk, be transported by a horse, or in later years by a jalopy, to travel to their neighbors house when struck by death.
100 year old Lula Starcher Hughes said everything halted with her family to participate in the funeral and mourning process of neighbors. "We would often travel from Hur to nearby communities, six to ten miles away," she said.
The body would repose in a casket, sometimes homemade or sometimes from a funeral home. The family dwelling was the scene of "The Wake." Neighbors would bring food and moral support to what was generally a three day event, leading up to a church funeral and burial.
Community members would "sit up with the dead," while others would visit on a porch or in the yard, reconnecting and story telling.
It was immeasurable support for a mourning family.
As years went by, country people relied on funeral homes to pick up the deceased, prepared and casket for a service to be held at the funeral home location.
Few remains are now taken back to their home place and few services are held in churches.
Much of the change of what has been called a traditional service is the decline in the Christian religion, with church membership at an all-time low.
In a 1937 Gallup Poll, 73 percent of Americans said they were church members. That percentage fell to around 70 percent in the '60s and '70s. By the 2000s, that number hovered around 60 percent. Most Americans say they believe or practice some form of Spirituality.
Many of the 200 or so country cemeteries are growing up with brush, trees and vines entangled around tombstones, the generation of caretakers now deceased themselves.
As a county commissioner I would get calls about their terrible condition, usually saying, "Someone needs to do something about that."
Whatever the religious, cultural or economic conditions may be, the way we honor, celebrate or recognize the end of a human life is changing.
Long gone are the days commented upon by my Aunt Gladys Stump, who said in the early part of the 20th Century, "We'd go over to Stump's Funeral Home to see who was dead, and stay around to visit."
Things were slow then.
Most maintain a person is not "dead" while they are still being remembered, but with traditions changing, that could be fading.