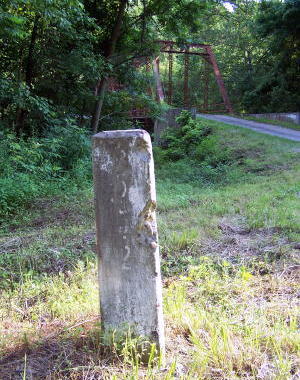 A concrete marker, used before modern
road signs,near the 1889 Egypt Ridge Bridge
By Bob Weaver
A new Rocksdale-Egypt Ridge Bridge, across the West Fork of the Little Kanawha at Rocksdale (Altizer Rd.), was set to go out for bid in 2017, according to the WV Department of Highways.
Hasn't happened yet.
The bridge, built in 1889, is likely one of the most unsafe, dilapidated bridges in the Mountain State.
At the time the bridge was built, the Rocksdale Store and Post Office was also established, the hub of the long-gone Village of Rocksdale for about 80 years.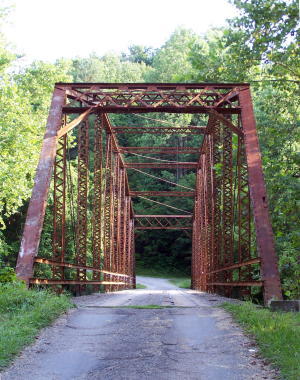 The Egypt Ridge Bridge is a rusty affair,
still being used after 128 years
Oldtimers said it was a sight to behold in the backwoods in the communities.
At long last, lower forkers could cross the river with their wagons, automobiles and trucks and travel narrow the curvaceous Egypt Ridge to the City of Spencer, but most importantly to drive or truck cattle and livestock to the Spencer livestock sale.
During the last century the bridge was used as a high jump into the swimming hole at the confluence of Henry's Fork and the West Fork, a dangerous idea now that the depth of the water has declined.
Generations have used the swimmin' hole, area residents still come to the spot to camp and fish during summer days.
The other nearby alternative to travel to Spencer is the low-water "submarine" just above the bridge, connecting Henry's Fork Road with Calhoun and Roane on US 33-119.
Locals have been hedging bets for the day when news will spread that a car or truck has crashed into the river, the bridge collapsing.
It may make it yet.
HAND DRAWN IMAGE OF ROCKSDALE POST OFFICE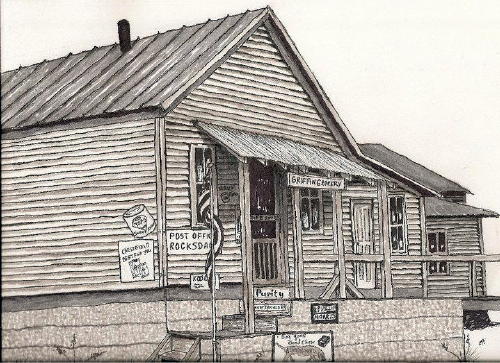 Image of store drawn by former Spencer resident David
Weaver, managed by more that a dozen families over the
course of its 80 year history, Rocksdale named for
the huge rocks that hang over the long-gone village