UPDATE 3/6/2017 - A funeral service will be at Calhoun Middle High School auditorium on Saturday, March 11, 2017 at 1:00 p.m. with Pastor Steven Carter officiating for accident victim Ethyn Miller, Visitation will be held in the CMHS auditorium on Friday 6-9 p.m. Interment will be at Bryner Chapel Cemetery, Joker.

UPDATE - A freshman at Glenville State College was killed in a car accident Thursday morning near the Calhoun-Gilmer line on State Rt. 5.

Authorities identified the victim as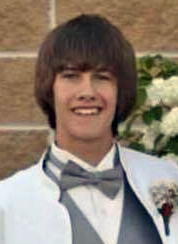 Ethyn Eric Miller, 19, of Grantsville, a May 2016 graduate of Calhoun County High School. He was attending GSC as a commuter student.
Miller was an outstanding athlete at Calhoun County High School, where he attended school and graduated.
"Betsy and I were deeply saddened to learn of the tragic auto accident that claimed one of our students this morning. The Glenville State College campus community joins our Calhoun County neighbors in mourning with Ethyn's family today," said GSC President Dr. Peter Barr.
Members of GSC's Student Government Association are planning a memorial ceremony at an upcoming date. Grief counseling is available to students, faculty, and staff through Tim Underwood, GSC's on-campus counselor.
The Gilmer County Sheriff's Department is investigating the accident.
Miller is the son of Kevin Miller and Denise Miller Davis, she being an assistant to Calhoun magistrate Rick Postalwait, his stepfather is Jesse Davis and step-mother Kristen Jones Miller.
ORIGINAL STORY: CALHOUN YOUTH KILLED IN CAR WRECK ON RT. 5
A young male driver was killed in a car accident on Rt. 5 in Gilmer County, not far from the Calhoun line, about 9:30 a.m. Thursday, according to 911.
Responders indicated the youth had been traveling at a high rate of speed when he struck a guard rail at a new bridge construction, went over the embankment, then struck a tree and rolled over.
The victim was trapped in the vehicle, dead at the scene.
His body was taken to a Glenville funeral home, to be further investigated by State Medical Examiners office.