Update 3-4-2017 - The power company says there are less than 5 customers without power in Calhoun Friday night, with about 25,000 without power in WV.

UPDATE 3-2-2017 - Power outages are down to 192 households late Wednesday night, after a forceful storm struck the county about 6:45 a.m. Wednesday, downing trees and doing minimal property damage.

The county was the object of a tornado warning Wednesday morning, not happening.

Overall, the county escaped major damage.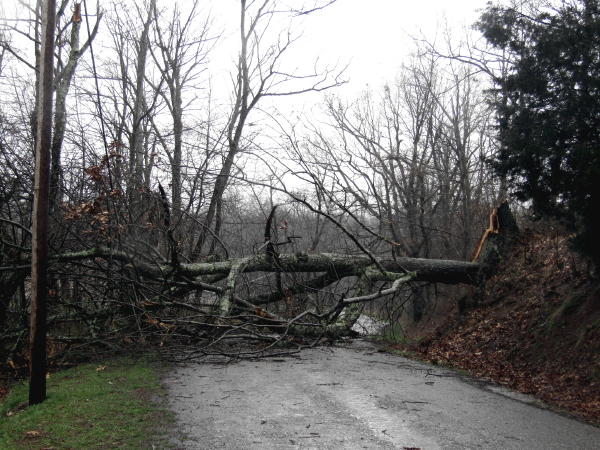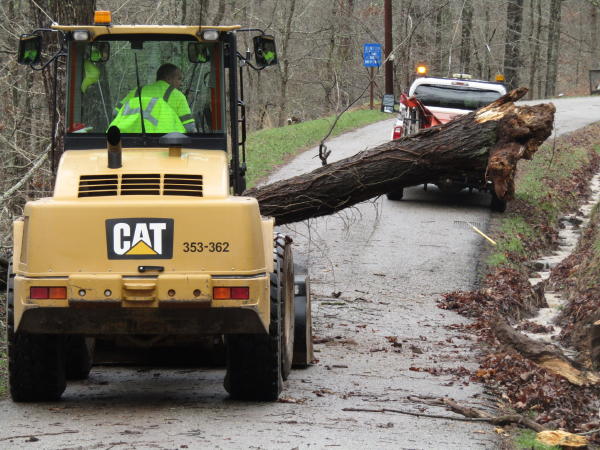 HUR WEATHER ANOMALY - Large trees went down near the Village of Hur, creating power outages, one within eye-shot of the Herald's corporate office, the other nearby on Pine Creek Road
3/1/2017 - March came in like a lion.
A Flash Flood Warning is was in effect for Calhoun until mid-Wednesday afternoon after the greater Arnoldsburg area and a section of northern Calhoun was under a Tornado Warning about 10-11 a.m. Wednesday.
High winds and one inch hail caused downed trees and some property damage.
Roaring wind was heard at high elevations during the tornado warning.
Electric and phone service disrupted in several areas.
While Calhoun Schools ordered schools closed at 9:30 a.m., the students were then sheltered in place until the Tornado threat was over.
Buses were loaded at 11:05 a.m.
The Tornado Warning was lifted for Calhoun, Jackson, Mason, Putnam, Roane, Wirt, Wood and Ritchie counties by 11 a.m.
At 11:30 a.m. Wednesday, 400 power outages reported in Calhoun and 5,000 in Braxton, with about 95,000 WV outages.
Several areas, including Jackson County, experienced flooding.
In 2016, about ten small tornadoes were confirmed in the Mountain State, an area which has rarely seen tornadoes.