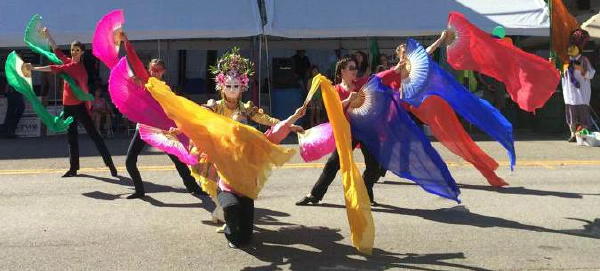 Performing at the 2015 Wood Festival Jude Binder,
Jocelynn Heiney, Jessi Cosgrove, Mercy Roberts,
Caroline McCumbers, Bethany Starky, Gina Burns
Submitted by Susan Grahame
Spring 2017 Program of Classes begin Monday March 6 - June 3, 2017.
Heartwood in the Hills offers a warm, welcoming atmosphere for everyone in the community who is interested in the arts through its classes and performances. Classes for the spring 2017 program will begin the week of Monday, March 6. The Heartwood program lasts for twelve weeks with the classes conducted in after-school and evening settings. Rehearsals for the performing classes are held on weekends. We will end the spring program with our performance at the Calhoun County Wood Festival in June. Our performance will include Dancing, Masks and "The Great Blueness".
It is easy to enroll in the program. Anyone interested is encouraged to call 304-354-7874 or e-mail heartwoodwv@frontiernet.net for details. Class fees are affordable and financial assistance is available for those who qualify. The class schedule is listed at heartwoodinthehills.org and information is also on our FaceBook page. Be sure to like our page.
Children ages 9 and up are invited to enroll in the Theatre class being offered this spring. Under the direction of Artistic Director Jude Binder these students will study the basics of theatre craft and performance. "The Great Blueness" is a theatre piece inspired by Arnold Lobel's wonderful children's book "The Great Blueness and Other Predicaments". Legend has it that there was a time when everything in the world was grey, a time known as the Great Greyness. And so the story begins. There's a part for everyone and with props, music, energy and attention we will tell the WHOLE story. Hint - there's a wizard who makes colors appear, like magic!
Enrollment in the dance component of the Performing Arts Program is open for boys and girls ages 10 and up. New and returning students will dance in June at the Wood Festival. There will be two dance groups for spring. Level One will include new students and those who have studied at Heartwood for less than three programs. Level Two students must have participated in three or more programs. Dance students are required to attend all rehearsals in preparation for the Wood Festival.
There are also open dance classes for teens and adults with dance experience. Heartwood is also proud to offer Movement for Health and Centering, a Heartwood original movement syllabus for teens, adults and seniors. Previous dance study is not required. Also offered this spring is Creative Arts for Children for the little ones and a Friday maskmaking class.