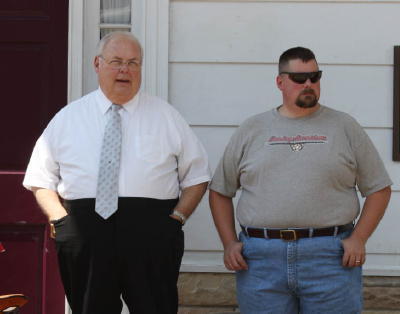 John Stump and Neil Stump, Calhoun Funeral Directors
Stump Funeral Home of Grantsville, Calhoun's only funeral business, is to be sold at a trustee auction, according to a legal notice published this week in regional publications.
The action is being taken by WesBanco, following the business declaring Chapter 11 bankruptcy in 2013.
The financial problems plaguing the business follow problems with Grantsville's Foodland, whose store shelves continue to need more stock.
The sale of the Stump property is set for 10 a.m. on February 8 at the Calhoun Courthouse.
It does not include the funeral home's branch at Arnoldsburg.
Stump's and the Calhoun Chronicle are the two oldest ongoing businesses in the county.
In a 2014 press release, related to the property being placed on the market with a real estate agent, the announcement said "It is time once again for a change at the Stump Funeral Home. To better serve our community John S. Stump, Director and his son J. Neil Stump, Director, are looking to relocate the Grantsville location from 107 Market Street to a more modern and more easily accessible facility."
"To facilitate this change, the Grantsville location, formerly known by Calhoun locals as the old Pell house will first be sold. Once the sale is complete, work will begin on the new facility." "The Stump family is reviewing several options for this new location and we will provide information to the public as the transition progresses," said the release.
Stump Funeral Home was established in 1897, and has been maintained by five generations.
It was founded in Grantsville WV in 1897 by Martha E. Stump and her son Ira Nelson Stump, whose ancestors migrated from Germany.
In the mid 1920's the family began the Stump Ambulance Service servicing Calhoun and surrounding counties. This was the only ambulance service within the county until new state regulations came into effect in 1975, at which time the service was transferred to the then Calhoun General Hospital in Grantsville.
Directors John S. Stump, grandson of the late Ira N. Stump and J. Neil Stump, son of John S. Stump, have carried on the family tradition, serving Calhoun and surrounding counties.
John S. Stump began working in the funeral home almost 60 years ago, at the age of 16, with his father, the late Ira Charles "Bunk" Stump, then also an acting funeral director.
In 1988, to better serve families John S. Stump, with the assistance of his wife, and then office manager, Roanna McKee Stump, opened a second funeral home location in Arnoldsburg WV.
In 1998, J. Neil Stump, and his wife Gina R. Cano-Stump, both graduated from Cincinnati College of Mortuary Science and became licensed directors. They returned to Grantsville to make their home, start their family, and carry on as the 5th generation of funeral directing in the family business.