3/28/2018 - A Wood County jury on Wednesday rendered two no mercy verdicts for a man found guilty of murdering a couple.

Jeffrey Lyle Sampson, 47, was found guilty on Tuesday of multiple charges in connection with the January 2017 deaths of Shawn and Brandy Hardman, both of Mineral Wells.

The charges include two counts of first-degree murder, kidnapping, burglary, use and presentation of a firearm during the commission of a felony and wanton endangerment with a firearm.

Wood County Prosecutor Pat Lefebure said he was satisfied with the jury's decision.

Sampson will be sentenced on May 23, where the judge will pronounce sentencing for all charges.

SAMPSON APPREHENDED FOLLOWING DOUBLE MURDER IN WOOD COUNTY - Police Engage In Multi-County Search, Charged With Murder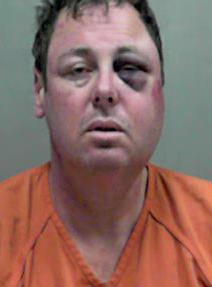 1/10/2017 6 PM - Jeffrey Lyle Sampson, 46, of Oakbrook Drive, Mineral Wells, is in custody charged with two counts of first-degree murder following the shooting deaths of two people early Tuesday morning at a residence on Nova Drive in Mineral Wells.
Sampson, 46 was arraigned in Braxton County Magistrate Court about 4 p.m. Tuesday following his arrest by West Virginia State Police near Sutton Lake in Braxton County.
A criminal complaint filed in Wood County Magistrate Court identified the shooting victims as Brandy Lynn Hardman, 40, and Shawn Michael Hardman, 43, husband and wife of Waverly WV.
The complaint says Sampson's estranged wife, Karen Dianne Sampson, 39, called Brandy Hardman and asked her to come to her residence because her estranged husband was there.
The complaint says Brandy Hardman and Shawn Hardman arrived at the residence on Nova Drive and an altercation ensued that resulted in the shooting.
Sampson's ex-wife was not shot or injured.
After the shooting, authorities began a multi-county manhunt that encompassed parts of Wood, Wirt, Calhoun, Roane, Gilmer and Braxton counties, that resulted in his apprehension.
Calhoun Schools were placed on lockdown, with Sampson passing through the area and reportedly stopping at a local gas station.
CALHOUN SCHOOLS LOCKDOWN LIFTED AFTER MINERAL WELLS MURDER SUSPECT CAUGHT - Jeffery Lyle Sampson Arrested After High-Speed Chase In Braxton County, Two Now Reported Dead
UPDATE 1/10/2017 12:50 P.M.- Authorities are saying that murder suspect Jeffery Lyle Sampson, 46, a resident of Wood County, has been apprehended.
The lockdown of Calhoun Schools has been lifted, according to Superintendent of Schools Tim Woodward.
Sampson has been captured by authorities after a high-speed chase in Braxton County near Sutton Lake, reportedly after coming through Calhoun.
A second victim from the Mineral Wells incident has died.
UPDATE 1/10/2017 12 noon: Wood County Sheriff Steve Stephens has confirmed one victim is dead from a shooting on Nova Road in Mineral Wells this morning, a second person shot.
The department is looking for Jeff Sampson, 46, a person of interest in the incident, Stephens said.
1/10/2017 10 a.m. - Wood County law enforcement and emergency personnel responded Tuesday morning to a shooting at 249 Nova Road in Mineral Wells.
Wood County 911 confirmed there were two victims and the shooting allegedly stemmed from a domestic dispute, though details were not available.
A BOLO was issued through Calhoun 911 that the the shooter might be heading toward the Arnoldsburg area of Calhoun.
Calhoun Schools are on a lockdown, related to the shooter possibly being in the area, according to Superintendent Tim Woodward.
"We took the action as a precautionary measure for the safety of our students," Woodward said. No student or person can enter or leave the building during lockdown, with the lifting of the lockdown to be announced.
Two people were taken to the hospital after the shooting, according to Wood County 911 officials. One victim was in critical condition, and the other victim's injuries were not life-threatening.
A "be on the lookout" or "BOLO" has been issued for Jeff Sampson, who is about 46 years old, according to 911 officials, and is a white man with brown hair. He could be armed and dangerous, officials said.
Sampson is allegedly driving a 2004 Chevy Colorado painted red with camouflage on the bottom. The license plate is 7ZR 869, 911 officials said.
Wirt and Wood Schools were also in lockdown.
If you have any information, contact authorities.