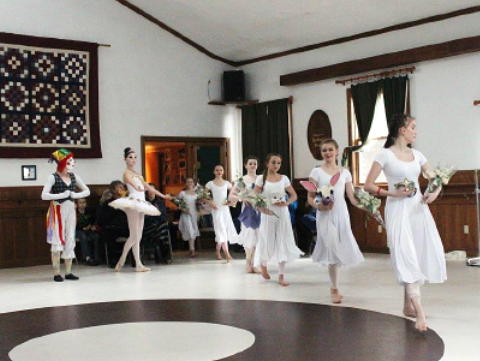 Taking a bow after performing "Rain". Entering are, Jocelynn
Heaney, Cheyanne Tingler, Kiley Murphy, Bethany Starkey,
Carelan Harper, Mickayee Cowan. To the left in mask are, Jack
the Jester - Jessi Cosgrove and Ballerina - Mercy Roberts.
The young artists of Heartwood in the Hills' Fall Program presented an exciting performance for an enthusiastic audience of more than 60 adults and children at the Performing Arts Program Showcase of Student Work on Saturday, Dec. 10, 2016 at Heartwood.
The afternoon was directed and choreographed by Heartwood's Artistic Director Jude Binder. The showcase included demonstrations of class work as well as performances in mask and dancing a new dance "Rain".
The showcase gave family and friends an opportunity to see first hand what is required of students who participate in the 12-week Performing Arts Program (PAP) Featured at the showcase were students Jocelynn Heiney, Bethany Starkey, Mickaylee Cowen, Caelan Harper, Kiley Murphy and Cheyanne Tingler.
The PAP requires students to attend two to three dance classes per week in addition to rehearsals for performances. Classes include Ballet, Modern Dance and Theatre Dance. Many of the students also enroll in other classes during a program which may include (when available) Maskmaking and Theatre.
A highlight of this Fall Showcase was the performance by Heartwood Alumni Jessi Cosgrove and Mercy Roberts. Both women began their study of the arts at Heartwood under the guidance of Jude Binder at ages 9 and 8 respectively, taking classes in dance, theatre and maskmaking. Both are accomplished mask makers and perform in their own masks as they did at the Showcase.
Jessi attended and graduated from the University of the Arts in Philadelphia, Pa. While there she majored in Theatre Arts, with a minor in Creative Writing, and a focus on Stage Combat. Upon graduation she received her Bachelor of Fine Arts degree. She is also a 2015 graduate of the International Stunt School and a pro-wrestler in training.
Mercy attended the Governors School for the Arts in 2011 and the Governors Honor Academy in 2012. She is currently a junior at Marshall University where she is working toward her Bachelor of Science in Nursing. While at Heartwood, Mercy was a member of the faculty teaching beginning Ballet.
Guests at the showcase were also treated to a surprise when the Heartwood Rabbit arrived just in time to participate in a special Heartwood Fundraiser raffle drawing. Donald Poage of Grantsville was the winner of a handcrafted Jeff Fetty fireplace set. See jefffettyironwork.com
http://www.heartwoodinthehills.org/ Proceeds of this fundraiser will go toward the school mission which is to provide arts opportunity in a rural setting regardless of anyone's ability to pay.
Heartwood will begin its Spring 2017 Program of Classes in March. A highlight of our Spring 2017 Program will be Heartwood's Calhoun County Wood Festival Parade and Performance in June. More information about the spring program, classes offered and financial assistance will be posted on the website and Facebook page in late February. If you are interested in learning more about Heartwood please call 304-354-7874 and someone will return your call as soon as possible. You may also email heartwoodwv@frontiernet.net.