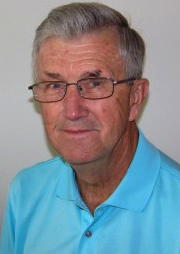 Former Calhounian Jim Yoak, son of Lloyd and Mildred Yoak, has authored his first book, "Golf Plus ~ Improving Your Life While Enjoying Your Swing."

Yoak's first golfing experience started on a little nine hole golf course on Northside in Grantsville 56 years ago.

This is where the book begins, using practical principles, personal examples and spiritual truths that can be a help to anyone that reads it.

Yoak worked for 30 years at DuPont and then 20 years as Pastor at Faith Baptist Church in Vienna, WV.

"I have played golf for fifty years and have read and studied the Bible for thirty-eight years," Yoak said.

"My desire in writing this book is to share some of the different aspects of the game of golf along with truths and principles found in God's Word that can be a help in our everyday life, whether on or off the golf course."

"Life, like golf, is full of challenges as well as opportunities. In his book, Golf Plus: Improving Your Life While Enjoying Your Swing, avid golfer Jim Yoak uses practical principles, personal examples, and spiritual insights that can help improve your life while enjoying your swing."

"This book may not improve your swing or lower your score, but I pray it helps you to play, win, lose, watch, and enjoy the game in a new way, and that it might awaken an appetite in you for God's word, he said.

This is a golf/spiritual book that would be good for anyone who likes to read, whether you play golf or not.

Check out the website at www.golfplus The book can be purchased on-line and at the Family Christian Bookstore in Parkersburg,WV at Lakeview Plaza.