5/26/2017 - Following a plea deal before Roane Magistrate Ron White, three charges against Grantsville businessman Tom Ullum were dropped.

Ullum plead no contest to one charge of disruption of government process related to his conduct toward Calhoun Magistrate Lora Davis.

Ullum will be on unsupervised probation which carries several conditions regarding his contact with public officials.

The disruption of government process charges brought by the Calhoun Commission and Magistrate Rick Postalwait were dropped, in addition to a parking violation charge.

5/3/2017 - A status hearing for cases filed against Grantsville businessman Thomas Ullum is set to May 11 in Spencer, according to Roane Prosecutor Josh Downey.

The Calhoun charges include:

- Disruption of Govt. Process, Stalking and Harassing Phone Calls

- Assault, Disruption of Govt. Process, and Harassment

- Parking Violation

The cases are set for a hearing at 2:00 p.m. in front of Magistrate Ronald White, special magistrate.

Some of the charges filed against Ullum were related to Calhoun 911/OES Director, the late Kathy Wood who died suddenly, January 22nd, 2017.

Ullum, in a Calhoun Commission meeting, said to Wood, "I will take you down (Wood), just like I took him down (defeated commissioner Weaver)."

GRANTSVILLE BUSINESSMAN ULLUM JAILED FOR BOND VIOLATION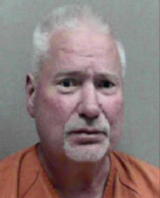 11/26/2016 - Grantsville businessman Thomas Carlton Ullum, 63 (left) was incarcerated in Central Regional Jail this week for violation of a bond that was the result of earlier charges of assault, willful disruption of a government process, and harassment against Calhoun officials.
Ullum reportedly made recent threats toward Kathy Wood, 911-OES Director, which resulted in the violation of his bond.
Ullum is facing charges filed against him by the Calhoun Commission in August of wilful disruption of government process.
Then, Calhoun magistrates Lora Davis and Rick Postalwait brought charges against Ullum related to his behavior toward the magistrate court.
Read earlier stories:
See GRANTSVILLE BUSINESSMAN CHARGED WITH DISRUPTING COUNTY COMMISSION MEETING
And CALHOUN BUSINESSMAN ARRESTED ON MULTIPLE CHARGES