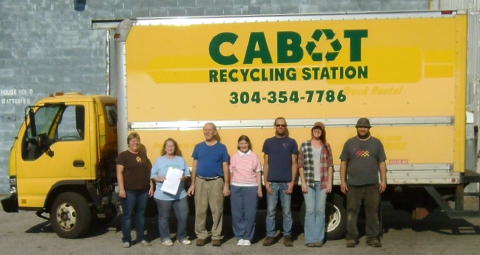 Pictured (L-R) Lisa Cooper board member, Michele Smith
Chair, Executive Director Tom Degen, Judy Wolfram Vice Chair,
staff members Josh Stough, Kim Solomon, Craig Allison
By Tom Degen, executive director for
Calhoun County Solid Waste Authority
The deed to the old Hope Compressor Station was finally transferred on October 26th to the Calhoun County Solid Waste Authority (CCSWA) operating as Cabot Recycling Station, ending a year-long saga.
Readers may remember that last October, Dominion Transmission delivered a letter to CCSWA terminating our 99 year lease and telling us to vacate the premises by May 1, 2016.
The solid waste authority responded by asking Dominion to donate the property to them, noting that Dominion operates a foundation that awards over $20 million a year to communities to protect the environment and improve community well-being and that Dominion was unlikely to find a buyer for the 60 plus year old building.
Cabot Recycling Station employee Craig Allison was our first responder. Craig started an online petition describing the situation and he alerted the community through our facebook page. Craig also printed out the petition and distributed it throughout the county.
Over 700 people signed those petitions, and because of the momentum they generated, we were able to get widespread support for our cause.
The county commission passed a resolution supporting us.
The Hur Herald and the Calhoun Chronicle covered the story and with the help of CCSWA Chair Judy Wolfram we were able to get the attention of our state senators Jeff Kessler and Kent Leonhardt, state delegate Roger Hanshaw, and our U.S. Senator Shelly Moore Capito, all of whom took our case to Dominion.
The Secretary of the WV Division of Environmental Protection heard of our plight and assigned an attorney with the Office of the Environmental Advocate to work with us.
When the folks at Dominion became aware of how much support there was for Cabot Recycling Station, and how important it was to our community, they graciously decided in March to donate the property to us, for which we are very grateful.
The rest of the time between March and October was consumed with the details; getting an appraisal, conducting a survey, and the back and forth of wordsmithing to get the language in the agreement and the deed satisfactory to both parties.
Owning the property will enable CCSWA to qualify for grants for upkeep on the building, which will enable us to continue offering recycling services to Calhoun and surrounding counties.
This tremendous achievement was made possible by the generosity of Dominion Transmission, and the tremendous outpouring of help we received from the community, our elected representatives, and the WVDEP. Thank you all.