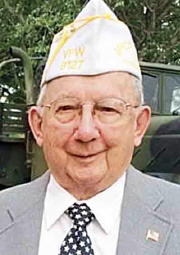 A Calhoun native, Gene Stump, 90, of Parkersburg, has died.

He was born Jan. 15, 1926, at Grantsville, W.Va., the oldest son of the late Dallas and Daisy Stump.

Gene was double promoted in high school and graduated in 1942 at the young age of 16. He joined the Navy when he was 18 and served in World War II. He commissioned the USS Kingsbury along with decommissioning it, before being honorably discharged.

Following his service in the Navy he was a machinist for 40 years at Johns Manville.

Many of Gene's accomplishments include: he served on the board of directors for the state AFL-CIO for 32 years, past fire commissioner for the city of Parkersburg, he served 28 years on the board of directors for the West Virginia League Central Credit Union, managed the Blennerhassett Federal Credit Union, Camden Clark Hospital Board, appointed by the Governor to the State Personnel Board.

He served as Quarter Master for 28 years for Vienna VFW Post 8127, he was still serving on the Democratic Executive Committee of Wood County, along with still serving on the West Virginia Central Credit Union in his 48th year, he served on the Board of Directors for Blue Cross/Blue Shield, and he served as treasurer for Central Ohio Valley Union Council.

Gene is survived by his wife of 55 years, Cathy and four children.