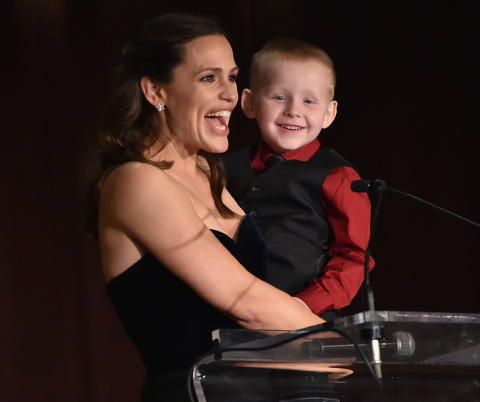 Jennifer Garner onstage with Brantley Smith, an
Early Steps participant from West Virginia, at the
4th Annual Save the Children Illumination Gala

Photo courtesy of Mike Coppola-
Getty Images for Save The Children
New York, N.Y. (Oct. 26, 2016) - Save the Children, the leading organization investing in childhood, held its 4th Annual Save the Children Illumination Gala last night, where Debra Smith and her son Brantley, 5, of Arnoldsburg, W.Va., presented an award to the organization's philanthropic corporate partner Toys"R"Us. The event was hosted by West Virginia native and Save the Children Artist Ambassador and Trustee Jennifer Garner at The Plaza hotel in New York City. Save the Children also honored supermodel and activist Iman; gamer, philanthropist and activist Bachir Boumaaza aka "Athene;" and writer and Red Nose Day co-founder Richard Curtis.
For the past two years, Debra Smith, Brantley and her younger son, Bronson, 3, have been enrolled in Save the Children's Early Steps to School Success program. Before a Save the Children early childhood coordinator began making regular home visits, Smith felt isolated in her rural community while her husband was out of town working five days a week. She struggled balancing the challenges of parenthood with introducing positive at-home learning opportunities for her sons. Today, Smith attends regular parent-child groups with other local families enrolled in the program, the boys love books and Brantley is excelling in kindergarten, which he recently started.
"It was an amazing honor for us to be included in the gala," Smith said. "I'm so grateful for all the books and learning Save the Children has brought into our home and everything they've done to help me get my boys on track to succeed in school. There's no way Brantley would be doing as well as he is in kindergarten right now if it wasn't for this program."
Cathryn Miller, a West Virginia program specialist with Save the Children, said the Smiths were an ideal choice to present an award to Toys"R"Us, which this year alone donated more than $1 million to support Save the Children's early learning programs in low-resource communities around the country.
"Debra has really embraced her role as her children's first and most important teacher," Miller said. "It's wonderful to see how the family now can't wait to read new books together, and how Debra turns all sorts of fun activities into learning opportunities. I have no doubt that her younger son will also do great once he starts school."
The Visionary Award was given to Toys"R"Us, which was recognized for their commitment to keeping kids safe and helping them in times of need in the United States and around the world. Through the Play with Purpose campaign, Toys"R"Us leveraged its brand to spotlight early learning through play as a critical component of childhood development. Since 2005, Toys"R"Us has contributed more than $9 million to Save the Children's emergency response and early childhood education programs, demonstrating their commitment to children every day and in times of crisis.
The Illumination Gala benefited Save the Children's efforts to give more children a stronger start in life by helping end preventable maternal, newborn and child deaths and by supporting early childhood education.
Save the Children trustee Jennifer Garner spoke about the charity's recent response to the devastating flooding in her home state of West Virginia from meeting families' immediate needs to partnering with schools and counselors well into the aftermath. "Save the Children has been working in West Virginia since 2010, so we were uniquely positioned for a quick response," said Garner. "Within a matter of days, we had raised a few hundred thousand dollars. And I watched with amazement as that pot of money grew to more than $1.5 millionÂ…At a time when our country seems very divided, I was heartened by that outpouring of support." The gala was presented by Johnson & Johnson. For more information, please visit www.savethechildren.org/gala