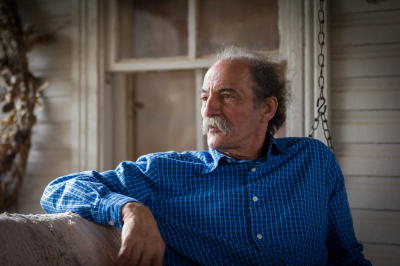 "Mike Morningstar: Here's to the Working Man."
Photo courtesy of Richard Anderson
Gilmer Public Library, in cooperation the GSC Fine Art's Glenville State College NAfME, will be showing the documentary film, "Mike Morningstar: Here's to the Working Man" on Friday, August 3 at 6 p.m. in the Recital Hall of the Fine Arts Building. This movie by Richard Anderson, a Baltimore filmmaker, is about the life and music of this well-known West Virginian songsmith.
Morningstar retired a few years ago because he developed neuropathy and lost the feeling in his fingers required to hold the pick when playing. This condition was the result of pancreatic failure from exposure to Agent Orange in Viet Nam.
For two years after his retirement he was so frustrated about not being able play guitar as he had, that he virtually quit trying. Then realizing he still had his creative drive, he started developing a completely different style of playing just picking with his fingers.
Morningstar, an original native of Parkersburg, has played all over West Virginia but especially the Ohio Valley for over fifty years. He now lives on a farm in Gilmer County with his wife, Donna, where most of the film was shot.
Many of Mike's songs are in celebration of the working man. Mike considers himself to be one with them saying simply "I made my living with my hands" hence, the title of the movie. In his long career, Mike Morningstar played his music in local nightclubs, pubs and fairs, "where the working folks gathered."
Over the years, he was the opening act for many artists including: Doc Watson, Marshall Tucker Band, Vince Gill, "Spider John" Koerner, Paul Geremia, Pure Prairie League, Tom Wopat, Dan Seals, John Hartford, Heart, the New Riders of the Purple Sage and the Goose Greek Symphony.
He was also on compilation environmental recordings with Hazel Dickens, The Del McCoury Band, Kathy Mattea, The Lilly Family and others. Mike also played on stage several times with the Davisson Brothers Band, played with John Hammond on Mountain Stage and with Jorma Kaukonen at the Fur Peace Ranch.
This movie came about because of two of Mike's friends and fans, Rowland and Marcie Hill of Harrisville. They had gone to hear him play over the years and hired him several times to entertain at their farm gatherings and parties.
They decided that since Morningstar was no longer performing that it would be nice to have a documentary about his life and music as a legacy to his long career. They contacted Richard Anderson, a photographer/filmmaker and longtime friend they knew since their college years in Maryland.
Richard was familiar with some of Mike's music from listening to Rowland's CDs and said "I liked his music." So at their request, he came to West Virginia to meet Mike. "I took an instant liking to him", Anderson said of Morningstar. "I realized he had a compelling story. He was an interesting guy, with lots of stories." The Hills formed "Laffin' Rivers films", named after one of Mike's songs, and produced the movie.
The film had its opening in Parkersburg, Mike's hometown, and sold out the Smoot Theater. It was a feature film at The West Virginia International Film Festival in Charleston and had the largest attendance of all the films.
It was selected for The Workers Unite Film Festival in New York City. This was a three week festival that showed hundreds films all over NYC. They gave a "Best" and "Honorable Mention" in each category. Out of eighty movies in the "Documentary Feature" category, the film "Mike Morningstar: Here's to the Working Man", won "Honorable Mention". Steven Morningstar, Mike's brother, sent a copy of the movie to Dr. Gary Gillespie, a retired professor from Glenville State College and Marshall University. His Doctorate is in Comparative Arts and he taught Humanities, Art History and English courses. After viewing the movie, he sent Steve the following email:
"The DVD arrived this morning and Anna Belle and I enjoyed the whole video. Not only does it showcase Mike's songs but also it chronicles important WV history. It encapsulates central WV lifestyles in all its variations - social, political, family life, religious, patriotism, mountain heritage. For all of these reasons I urge you and Mike to send a copy to The Division of Culture and History Capitol Complex. This needs to be preserved and available to researchers of this type of music and WV life."
You can watch a trailer of the movie at www.herestotheworkingman.com.