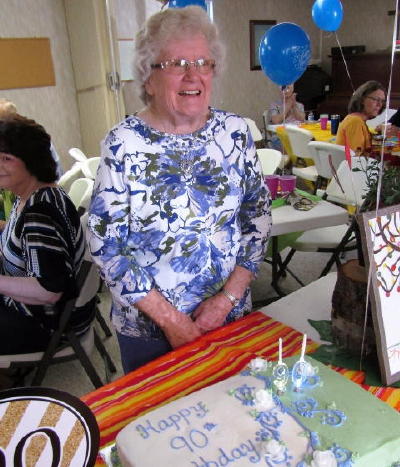 Betty Fern Holpp Weaver celebrated her 90 birthday last week at a celebration at the Mt. Zion UM church, with family, friends and parishioners attending the event.
The daughter of the late Frank and Etta Holpp of Yellow Creek, she was the postmistress at Mt. Zion for many years.
Children of Fern and the late James Lauren Weaver are, the late Jim Weaver (1951-2008) and his wife Takayo, Linda and Mark Shock, Lora and Larry Sturm, David and Sandy Weaver, Martha and Hays Haymaker.
Grandchildren and great grandchildren are, Lisa and David Weaver, Jenny and Zachary Chancey & Khloe, Barbara and Whitney Kistler, Brent and Sarah Sturm & Simon, Shelley and Kevin Harris and Jaxon & Avery, Kelly and Gino Degregori and Max, Sophia, & Noah, Jamie Weaver and Cary Child, Alex Weaver, Heather and Phillip Perkins and Lily & Alie, Caitlin Weaver, Kara and Brendon Osborne and Arianna & Elias, and Josh Haymaker.