The West Virginia Higher Education Policy Commission has released the statewide statistics and map regarding the college going rate in all 55 counties.

Calhoun currently has the worst college going rate in West Virginia, after having high college going rates several years ago.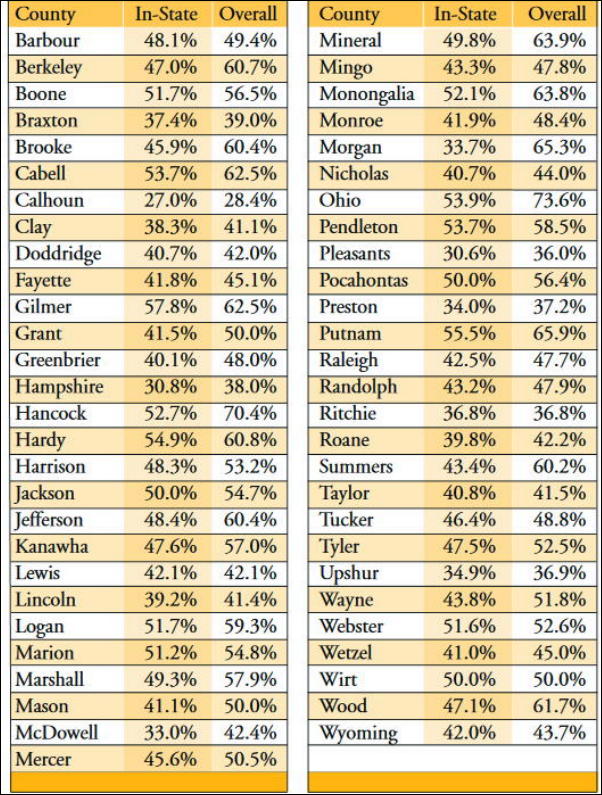 Read CALHOUN HIGH SCHOOL COLLEGE ENTRY RATES DROPPING - WV's College Entry Rate Has 5-Year Drop, Calhoun College Entry Statistics Since 1990
Also HEPC REPORT
ORIGINAL STORY: CALHOUN SCHOOLS HAVE WORST COLLEGE GOING RATE IN WEST VIRGINIA - College Education Becoming Less Affordable
7/2/2016 - As the cost of a college becomes less affordable for working families, the state Higher Education Policy Commission says Calhoun County has the worst college going rate at 28%, figures available in 2015.
Of 18,400 students who graduated from West Virginia public and private high schools last school year, 55 percent enrolled in colleges in the fall, according to an HEPC report.
That's a 1 percent decrease in the college-going rate from the previous fall, a 4 percent drop over the past five years and the lowest overall rate since 1999.
Ohio County has the highest college-going rate in West Virginia at 74 percent.
Putnam County is at 66 percent and Kanawha County is at 57 percent. The state's Higher Education Policy Commission approved a nearly 10 percent in-state tuition hike at WVU, and smaller, but significant hikes at other WV colleges.
The state has cut funding to universities in consecutive years, meaning they've had to make do with less.
Although some initiatives are funded by benefactors, grants, and scholarships, much funding comes from the pockets of students through increased tuition and fees, adding to the amount students owe after they graduate with paying back loans. College debt in America is estimated to be around $1 trillion and growing.
Salem International University, which has established a program aimed at helping students complete a degree with little or no debt. Salem has not increased tuition in three years and has been approved to reduce tuition for some programs.
Many potential students and their families can't afford the rising costs and many end up dropping out before they earn their degrees, but still have to repay student loans.
Meanwhile, the USA is dropping behind in educational achievement compared to the rest of the developed countries.