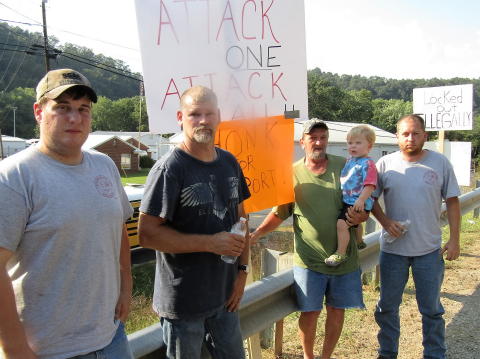 Dominion employees in Grantsville establish a
picket in protest of significant benefit cuts,
while the company has locked-out the employees
By Bob Weaver
UPDATE 9/8/2016 - Dominion has locked out more than 900 employees who are members of the United Gas Workers Union Local 69.
The lockout affects workers in West Virginia and five surrounding states, Maryland, New York, Ohio, Pennsylvania and Virginia.
Calhoun Dominion employees established a picket near the company office Wednesday.
Those picketing said that from the beginning the labor disputes main issues have been the company trying to change or take away benefits from current retirees of the union along with benefits for any newly hired Dominion employee, according to Kevin Cunningham, UGWU Local 69 Union Steward
The company is calling for the elimination of retiree medical insurance for newly hired members.
Also the elimination of a pension for newly hired members and replaced with a "cash balance fund" which represents a decrease in income of 40%.
Local Union 69 has released a statement regarding the lockout of their members from Dominion facilities. Below is the complete press release:
"At 12:01am midnight September 7, 2016 Dominion Transmission/Hope Gas notified the Union it was implementing a lock-out of 950 UGWU Local 69 members. The Local is represented in six states VA, MD, PA, NY, OH AND WV with over half of the members employed in West Virginia.
"The Union considers this lockout a clear violation of the National Labor Law Act and have responded with several labor charges being filed. Picketing is scheduled throughout the six state area."
"The Union presented the Company with an offer to not strike while negotiations were ongoing in return not to be locked out but the Company never responded and ultimately locked the membership out."
"The Union made such an offer to avoid a work stoppage of any kind and to provide the best possible protection for the general public."
The parties are scheduled to hold a session of bargaining on Thursday September 8th with the Federal Mediator.
"All Union members are willing to return to work but are being refused entry into the facility's, this is not a strike."
A union spokesperson said, "This is a continuing trend with American Corporations and their politicians to end unions in America," including the most recent passage by a Republican-led legislature in WV to eliminate the prevailing wage law and efforts with "Right to Work."
Thomas Farrell, Dominion CEO, is among the USAs highest paid executives with an annual salary of $20 million, the company with gross assets of $56 billion, and currently employing 15,000 employees.
ORIGINAL STORY 9/6/2016 - Local union reps fear a potential lockout has worsened and could be looming after the United Gas Workers Union chose not to reach a tentative agreement with Dominion Hope to vote and ratification.
"That process has stopped, and we have rejected the offer," UGWU Local 69 President Craig Bradford said in a phone interview.
One of several problems with the contract is the elimination of health care benefits after retirement for newly hired employees.
This is the second rejected offer since negotiations began in February.
"The company has several detrimental proposals that will affect our union and the retirees in the future and the current retirees," Bradford said. "The membership just doesn't want to implement it into our contract at this time."
On August 26, UGWU 69 reported on Facebook that a tentative agreement had been reached with Dominion.
Bradford said a non-starter for the union was the contract's elimination of retiree medical insurance for any newly hired employee, describing Dominion's stance as "take it or leave it."
"That's caused severe heart burn for us and our membership," he said.
Dominion Hope released the following statement through a spokesperson:
"Our top priority has always been and continues to be to provide Dominion Hope and Dominion Transmission customers with safe and reliable service around the clock," Dominion Hope spokesperson Bob Fulton said. "We work every day with that in mind. After being without a labor contract for five months, we had to consider all possibilities including a strike or a lockout."
Though Bradford said he believes Dominion is likely preparing for a lockout, the Union has ruled out striking.
"At this time we just don't want to consider a strike due to public safety," Bradford said. "We're pretty convinced that the company will not be able to provide the efficiency and the safety that our membership provides."
"They have not notified me that they are locking us out, but they have begun what we think is the process of doing so." According to Bradford, about half of the 900-person union is employed in West Virginia.
The last contract expired April 1.
READ EARLIER STORIES:
DOMINION COULD LOCK-OUT EMPLOYEES IN CURRENT UNION DISPUTE - Agreement Affects Retiree Benefits