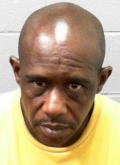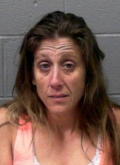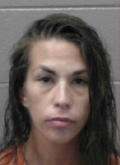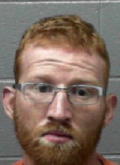 FOUR CHARGED 1ST DEGREE MURDER (left to right): Derryl Anderson, Trudy Ellen
Dowler, Alisha Dawn Walker, Alex Justin Dunn
By Bob Weaver
Four Wood County residents appeared for a preliminary hearing Monday in Grantsville, appearing before Calhoun magistrates, charged with the murder of Lewis Bartlett III, 37, of Parkersburg.
Bartlett was apparently shot four times in the back by a small caliber handgun on Hardman Fork on July 22, his body was discovered the following day along the rural road.
Criminal complaints indicated the murder was linked to kidnapping, torture and burglary, connected to a drug deal gone bad.
State Police, in a complaint, said the alleged trigger-man was Alex Dunn, 27; Derryl Anderson, 52; Alisha Dawn Walker, 26, and Trudy Ellen Dowler, 38, all charged with Bartlett's murder.
They are also facing other charges linked to the incident.
Adam Michael Miller, about 24, was also charged in the incident with trespassing, conspiracy to commit a felony, burglary, kidnapping, obstructing, and obstructing an officer.
Bartlett, the murder victim, had been one of the suspects in the kidnapping of Josh Shrader earlier in the day on July 22, according to a criminal complaint.
The group, along with Bartlett, traveled to Calhoun County to get meth and money that Bartlett had reportedly hidden on Hardman Fork.
When they found the meth, Dunn allegedly shot Bartlett in the back and head, says the complaint.
Anderson is then accused of stealing meth, along with a gun Bartlett had in his waistband.
After the shooting, everyone fled, leaving Bartlett to die in the ditch.
Police said Josh Shrader was allegedly abducted and tortured in an effort to locate Walker's missing Jeep, but Shrader escaped to a neighbor's house, after which he was transported to a hospital for treatment of multiple injuries.
Shrader was then arrested on a capias warrant from Wirt County and incarcerated. Police said the methamphetamine and cash were retrieved.
READ EARLIER STORIES
FOUR CHARGED FIRST DEGREE MURDER IN VIOLENT CALHOUN DRUG RELATED EPISODE - Deception, Kidnapping, Torture, Robbery