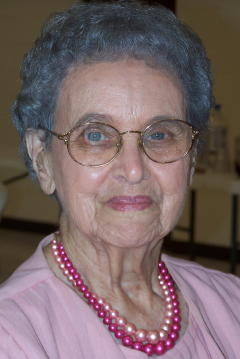 Ruth Bartlett dedicated servant
"Old saint" 92-year-old Ruth Bartlett of Big Bend, has passed.
The daughter of the late Alfred R. and Lola Norman Holbert, she was the longest surviving member of Brooksville Missionary Baptist Church (82 years), where she had taught Sunday School and served as church pianist for over 50 years.
Funeral services will be held at Stump Funeral Home, Grantsville, on Saturday, July 9 at 1:00 p.m. with Rev. Barry Skaggs officiating. Visitation will be held from 11-1 on Saturday prior to the service. Interment will immediately follow the service at Bethlehem Cemetery, Grantsville.
Brooksville Baptist Church had a homecoming in 2008, including a three day revival led by former church members who are now ministers, Brian Arthur, Barry Miller and Fred 'Junior' Basnett.
A highlight of the homecoming was special recognition given to Ruth Bartlett, who had been a member for 75 years.
Pastor C.W. 'Mac' McDonald said "She has been faithful to the church all these years, through its ups and downs. Every-time the doors are open, Ruth is here giving of herself. She has been a blessing."
"A company of believers in Christ met May 4, 1906 at the Brooksville School house for the purpose of organizing a Baptist Church," a 100-year celebration held in 2006.
See THE VOICE OF THE CHURCH - The Brooksville Baptist Church Bell