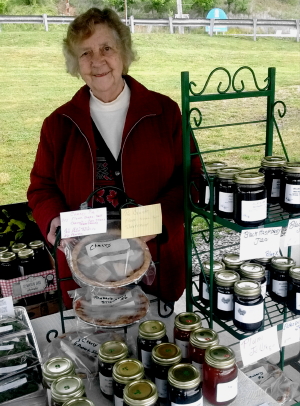 Violet Bush "The Jelly Lady" also
bakes fresh, homemade fruit pies
Despite some chilly mornings, folks are antsy to start digging in the dirt. Now is the time to get young plants in the ground, and the Gilmer County Farmers Market is the perfect place to pick up healthy, homegrown garden plants.
Walter and Price Rush have loads of tomatoes in all your favorite varieties. Additional plant vendors this season will include the 4-H and FFA kids, Boy Scouts, Gilmer County Master Gardeners, and several other folks who have plenty of sprouts to share.
The Gilmer County Economic Development Association, which sponsors the Farmers Market, hopes you'll support the local economy by purchasing garden plants from the market this month, and later, homegrown veggies, fruits, and berries.
The GCFM will be able to accept SNAP this year.
Another familiar face is returning for the 2016 GCFM season is Violet Bush, aka "The Jelly Lady." In addition to her famous jellies and jams, Violet will have her fresh, homemade fruit pies each week. It's well known, however, that if you want a pie, you need to hit the market early. Violet's pies go fast. And here's something a little different: Violet has dried ramps this spring. This seasonal West Virginia specialty also comes and goes quickly in the springtime. Buying them dried allows for longer storage, so you can load up your pantry; use some now, and save some for later.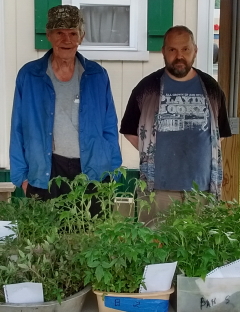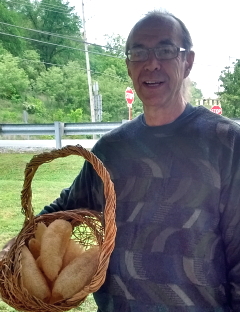 Walter and Price Rush (L) have your favorite
tomato plants; Gene Breza, "The Leather Guy"
(R) also raises and sells natural loofahs
Before the market fills up with produce, the crafters make the market fun in springtime. Dot Frey has handmade wooden items, Karen Pennebaker has silver jewelry and stitched items, and Melissa Gish is back with handcrafted gemstone jewelry.
Eugene Breza, aka "The Leather Guy," will once again be hauling his heavyweight wares to the market each week to not only sell his leather goods but also demonstrate his craft. Folks enjoy watching Gene tap, punch, and polish a variety of leather treasures. But not everything Gene brings to market is as heavy as his belt display. He also totes a basket of loofahs, which weigh about as much as a handful of cotton balls.
Unlike loofahs found in retail stores (which are typically hard as bricks because they have been treated to hold their shape), Gene's loofahs are naturally soft. They flatten and remain flexible after some use, which means they are not rough on skin. They remain sturdy after months (even years) of use. Some people think that loofahs are sponges that come from the ocean, but they are not. They are the fruits of a vining plant. The husk is peeled away and the seeds removed. The dry, fiber "skeleton" that remains is what becomes our bathtub buddy. If you haven't yet tried one of Gene's loofahs, you're missing out on something very special.
The EDA welcomes all its vendors and invites everyone to visit the Farmers' Market on Saturdays from 9:00 a.m. to 1:00 p.m., located at 720 North Lewis Street (next to the Senior Center).