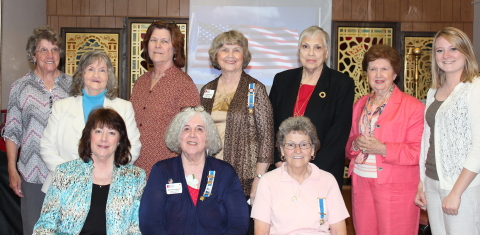 (Front L-R) Meg Ashby, Ruth Mooney, Lillie Robinson (Back
L-R) Mary Stewart, Carolyn Patrick, Dabney Phillips,
Lorraine Bailey, Elizabeth Stewart, Bonita Bell and Leigh Ashby
Elk River Chapter, National Society Daughters of the American Revolution of Gassaway, joined Daughters of Trans-Allegheny of Weston, Daniel Davisson of Clarksburg, Elizabeth Zane of Buckhannon, and James Barbour of Philippi on May 14 at the Museum of American Glass in West Virginia in Weston for the purpose of installing newly-elected officers for 2016-2019. John Hart Chapter Regent Barbara McCreary performed the installation ceremony.
The Meeting's Agenda included Daniel Davisson Regent Carolyn Burnside, providing introductions of honored guest, John Hart Regent Barbara McCreary, Chapter Regents who introduced their members and guests in attendance. Trans-Allegheny Regent Pat Goodwin opened the meeting by presenting the DAR Ritual with Vice Regent Kelly Goodwin.
Elizabeth Zane Regent Carolyn Crozier led the Pledge of Allegiance to the Flag of the United States of America. Elk River Regent Ruth Mooney led The American's Creed. James Barbour Regent Diana Davide opened the floor for announcements. John Hart Regent Barbara McCreary made one of the announcements of particular interest to the group.
Saturday, August 27, 2016 the John Hart Chapter will host the Central District Meeting at the Randolph Community Arts Center in Elkins. Registration begins at 9 a.m. The Meeting begins at 10 a.m. with Central District Director Kelly Goodwin presiding and lunch is at noon.
John Hart Regent Barbara McCreary called for the newly-elected officers from each Chapter present to prepare for the installation ceremony. Daniel Davisson Officers were Regent: Carolyn Burnside, Vice Regent Jessica Orrahood, Secretary Charlotte Orrahood, Treasurer Joyce Westfall, and Registrar Carolyn Bell.
Elizabeth Zane Officers were: Regent Carolyn Crozier, Vice Regent Delores Wilson, Chaplain Sharon Boone, Secretary Nancy Greenleaf, Treasurer Jane Reddecliff, Historian Loretta Dawson.
Elk River Officers were: Regent Margaret Ashby, Vice Regent Ruth Mooney, Chaplain Lillie Robinson, Recording Secretary Carolyn Patrick, Corresponding Secretary Dabney Phillips, Treasurer Barbara Bailey, Registrar Elizabeth Stewart, Historian Kimberly Frazier, and Librarian Jill Mooney.
James Barbour Officers were: Regent Sheila Sipe, Vice Regent Diana Davide, Chaplain Mary Lou Wagner, Secretary-Treasurer Karen Corley, Registrar Diana Davide, Historian/Librarian Karen Corley and Diane Davide.
Trans-Allegheny Officers were: Regent Christina Rumbach, Vice Regent Donna Henline, Chaplain Pauline LeRoy, Secretary Kelly Goodwin, Treasurer Pat Goodwin, Registrar Theresa Blake, Historian/Librarian Erseline Rumbach.
The newly-installed officers of each Chapter assumed their duties immediately after the installation ceremony.
Following the ceremony, everyone in attendance enjoyed refreshments and fellowship and the beautiful glassware on exhibit.
Other participants not previously mentioned were: Theresa Allen, Leigh Ashby, Bonita Bell, Lorena Casto, Julian Gehr, Kathie Kemper, Jean Ketchen, Theresa Mason, Nancy Salai, Mary Stewart, and Georgette Ward.