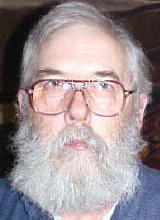 By Alvin Engelke
alvinengelke@hotmail.com

Rick Williams brought the message at the Burning Springs M. E. Church.

Gay Park is on the mend and is to undergo a stress test. Thinking about the test is stressful.

There was a food give away at the Creston Community Building on Saturday organized by the Missional Group from Spring Valley.

Sgt. First Class David Elbert Smith, USA, Retired, age 83, passed away in Ladson, South Carolina. He was born in Creston May 1, 1933 son of Harley B. & Ethel Criss Smith. Burial is to be in the Arlington National Cemetery.

The 17 year cicadas continue to emerge and the noise of their mating song is getting louder & louder. Some folks have bundled up young trees that they do not want destroyed by the laying of eggs in the small branches.

Fred Bish has been on the puny list.

The peonies are now in their prime, just in time to use to decorate graves on Decoration (Memorial) Day.

Talk continues about the problems in various counties with the primary election, the big turnout and problems with properly shutting down voting machines, etc. All poll workers agree that the "video" is pretty much worthless and some hands on experience with the machines would be very helpful. In some places tempers were [and remain] hot and recounts are threatened. One would hope that the problems are resolved before November. Others are grumbling about the supreme court election and that money influenced the result. It would seem that the trial lawyers and their money was wasted as their man didn't get elected & thus, part of the angst. It was noted that if one wanted a judge that wasn't in anyone's corner (or hip pocket) they should have backed Wallback barrister Wayne King but such apparently wasn't the big boys' plan.

The legislature went back to work on the budget with less that spectacular results with blame being tossed all around. It is very likely that some worthless brothers-in-law and sons-in-law who have positions may get laid off and have to get a real job. Earl Ray wants to raise taxes so his mommy can continue to get six figure amounts from the taxpayers for her prize puppies. The wise ones could look at how utility companies are taxed (about 10% of the rate of others) and one could get the real amounts received on coal, oil & gas sales to determine severance and corporate income taxes and one could eliminate the special, crony capitalism tax breaks written for Jim Justice -- just for starters.

Sixty years ago or so it was the common rule that one did not set out tomato plants (unless you wanted to cover them up) until after May 10, the average last day for a killing frost. This past week there was in most sections a frost and as one drives along the road one can see the Japanese knotweed that was frozen back and has turned brown. If there were "global warming" such should not be the case. On the federal level the Big Eared One's folks say that those who question the orthodoxy of the high priest Albert Gore, Jr. should be imprisoned which means that the government folks know that it is all a hoax & that they loathe the Bill of Rights. Wayne Dunn, a Wood County politico, put a letter in the little paper down at the Mouth of the Elk quoting scientists from centuries past & claimed that there had recently been record hot years when the temperature has remained constant for the past 19 years. Junior Gore said Carnival Cruises would be giving tours of the Artic Ocean observing puffin & auk colonies, musk ox & caribou herds, Esquimeaux sunbathers, etc., but there was record ice and the polar bears are multiplying and while the Antarctic ice sheet is growing someone put out an article saying that one of the glaciers there was going to melt and raise the ocean level three feet.

Speaking of the Mouth of the Elk those folks got bad news that the capitol city has fallen below 50,000 residents for the first time since 1930 or so. Apparently the 'wise leadership' of Broadway Joe and his Dee Cee friends haven't worked out so well.

A local resident received a letter from Columbia Gas that the pipeline would be going through his land. This was after maps were shown at the federally mandated meetings that the line would go elsewhere. Paul Kress, a VP at EQT (Equitable), a Pittsburgh based integrated energy firm, noted that there are currently $5.7 billion worth of pipeline projects on the drawing board for W. Va. He also noted that the little university up at Morgantown calculated that natural gas portion of W. Va.'s gross domestic product will surpass coal's share this year.

Farmer Walt, the head agriculture man for W. Va., sent hemp seeds to Jim Leach & J. Morgan Leach to grow in Wood County this year as part of a "research project". As a result of the outing of the "Panama papers" the Panama Red strain has received more publicity recently. That was the strain grown by the Wizard of W. Va. who formerly lived in Calhoun County.

Charles Russell was calling on Ray Gumm, Paris Parsons & brother Euell at the Miletree center in Spencer.

Some local folks went to Ohio Amish country to "lay in supplies" from the Berlin bulk foods store, Hershbergers, the local packing house just down the road [toward Charm] from there, etc. While some first cutting hay had been put up, mostly in wraps, corn planting as elsewhere is way behind and it continues to rain with local rivers being up. While dining at Boyd & Wurther's Restaurant [where the locals eat] Beth McNalley (Sister Beth) and her siblings came in to dine.

The price of local Pennsylvania grade crude is $47.16/bbl. with condensate [super mountain high test] fetching $30.16, Marcellus & Utica light $41.66 & medium $47.16/bbl. Gasolene prices continue to go up. On one day in Ripley low test was $2.10.9 and then elsewhere it was $2.45/gallon. Natural gas sold for less than $1/mcf and in some instances wasn't enough to cover the cost of the "firm transport" fee charged by the Rockefeller companies. Apparently they do not want the Rockefeller wives to have to shop yard sales for their little ones' threads. It is understood that a suit is in the works to set the "fee" aside as it was done by coercion -- either you agree to pay or we shut you off. When asked what would happen if the price dropped below the firm transport fee if it would be waived, the answer was, "Good try Mr. Jones but no!"

The views and opinions expressed herein are those of the author and do not necessarily reflect the views of the Hur Herald.