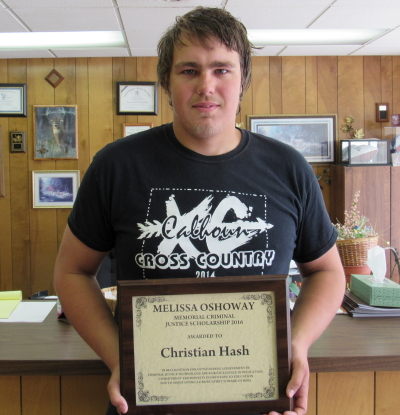 Christian Hash receives the 2016 Melissa Gayle
Oshoway Criminal Justice Memorial Scholarship
The 11th Melissa Gayle Oshoway Criminal Justice Memorial Scholarship was awarded to Christian Hash at last weeks Awards Ceremony at the Calhoun Gilmer Career Center.
Christian plans to attend Glenville State College in the fall, and hopes to become an attorney. He was at a tract meet the day of the ceremony and received his award afterward.
Christian is the grandson of Timothy and Mary Templon of Grantsville, WV.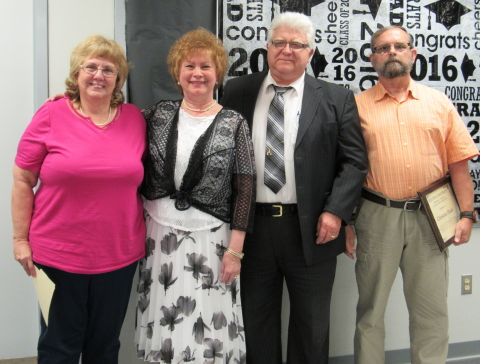 Ms. Patty Cain (left) presented the award, shown
with Sue and John Oshoway and Rue Brannon (right)
The Oshoway's wish to thank Billie and Wanda Houchin and Knotts Memorial Methodist Church for donations toward this scholarship.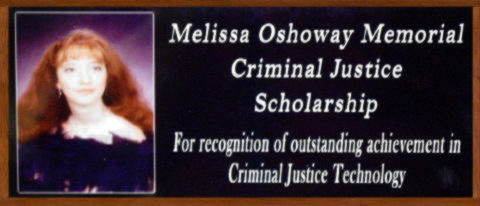 Melissa "Missy" Oshoway was an outstanding student and an exemplary community leader, the scholarship represents those qualities.
The recipient must have given to and participated in many community service activities, have exemplary values and moral character.
Candidates for the scholarship must have three personal and teacher references and excellent school attendance. They are to be serious students and clearly on the path of excellence in the criminal justice field.