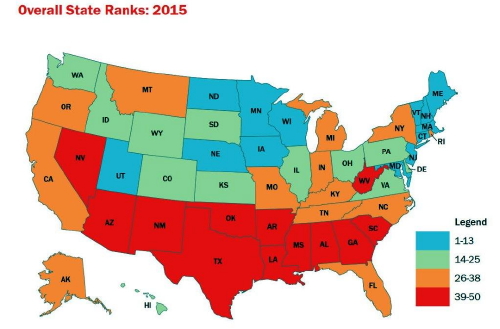 West Virginia does not fare well
in the well-being of children
136,000 WV school students that receive free breakfast and lunch through the Community Eligibility Provision program, if changes are made to House Bill 5003, will no longer meet the requirements of the program, leaving some families to pay for meals in the future.
Under the current CEP program schools with 40 percent of children who qualify for free meals, offer free meals to all attendees.
This week the US House Education and Workforce Committee is considered a proposal to raise the current eligibility threshold to 60 percent.
Calhoun Schools will not likely be affected since 73% of its students fall under the needy category.
According to the newly released KIDS COUNT® Data Book from the Annie. E. Casey Foundation, there are 13,000 more West Virginia kids living in poverty than there were in 2008.
That number represents more than one in every four (or 27 percent) of the state's entire child population.
"West Virginia has done an amazing job of implementing community eligibility. As a result if this bill were to take affect over 400 schools in West Virginia would no longer be able to operate community eligibility and it would impact about 136,000 children," said Crystal FitzSimons, Director of School and Out-of-School Time Programs at the Food Research & Action Center in DC.
Previously, including Calhoun, parents who would not or could not pay school breakfast and lunch bills were taken to magistrate court to induce payment.
In WV nearly a 24 percent average of children are living in poverty and over 400,000 are on food assistance.
In Calhoun, according to Kids Count, the number of children living in poverty is 26.3%, down from a few years ago.
Overall, according to Kids Count's well-being factors, Calhoun County ranks at 43 in the 55 counties.
Experts say the CEP program has allowed for children facing food insecurity to perform better in school and to avoid the stigma that accompanies free meals. One local official says passing the bill would stifle that progress.