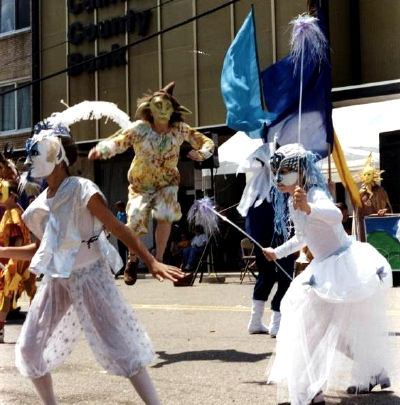 Archived Heartwood in the Hills photo of
previous Wood Festival Mask performance
All Heartwood alumni who have ever performed in Mask are invited to join-in on Saturday, June 4, for the Calhoun County Wood Festival Parade and Salutation at 11:30 a.m. in Grantsville.
In addition, any mask folks who want to perform twice can also join performers at 4 p.m. to march from the senior center, downtown to the courthouse, where the Performing Arts Program students will present the Boot Dance and you can join in the Salutation again.
The only requirement is that you attend a Dress Rehearsal at Heartwood on Monday, May 30. If you are alumni and want to be in the parade you should plan on being at Heartwood from 3:45 to 6:30 p.m. on Monday, May 30. Give us a call or message us to let us know if you want to join in this Heartwood salute to the Calhoun County Community.
Heartwood in the Hills is a non-profit school for the arts located on Broomstick Road in Calhoun on Route 16 north of Grantsville. For more information please visit the website www.heartwoodinthehills.org and please visit Heartwood on Face Book.