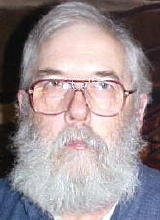 By Alvin Engelke
alvinengelke@hotmail.com

Rick Williams brought the message at the Burning Springs M. E. Church.

A number of folks with Creston connections, family & such, were indicted in Wood County. Gay Park has been on the puny list and spent some "quality time" at the emergency room.

Alvie Ferrell, Carl & Donna Ferrell & boys were calling on Euell Russell & Nancy Moss at the Miletree Center. Many of the residents had to spend time with the boys and they all want them to come back again.

Joan Nutter, age 79, of Cairo passed away. Her husband, Rev. Carlos Nutter, was the minister at Burning Springs for a number of years.

William Robert Krantz , son of Homer & Amanda Gohn Krantz died at or near birth. His mother is the daughter of Bill Gohn, now of Pennsylvania and Robin Ludwig. Burial was in the Hardman cemetery in Smithville.

Rain continues in the Creston area and corn cannot be planted and one fellow wanted to take off his rye crop but It is too wet and while some hay is ready to cut, water is standing on the ground and machinery would get stuck in the soft places. Locust blossoms are out and some are looking forward to them being deep fried in a nice batter & rolled with sugar in a paper bag.

The 17 year cicadas are emerging in the Creston area. While often called locusts they are not to be confused with the ones that God sent to plague Egypt as those are grasshopper type critters that eat everything in their path and make swarms so large that they block the sunlight. The cicadas have a very irritating "song" and then they lay eggs in small branches ruining young fruit trees and generally damaging the timber.

Sen. Donna Boley bested both the Spencer insurance salesman and John Riggs from Pleasants County. The Spencer guy said Jackson County airhead & big oil company promoter Mitch Carmichael put him up to running against Donna, the long time local favorite elected representative. Riggs, the other guy who ran against Donna indicated that he hoped to run as an independent in November against her as it seems that there are those who are very upset that W. Va. updated the labor laws to bring the state into the 21st century. They seem to think that the former leadership that has already cost West Virginia half of our congressional representation (the state went from 6 to 3 in the U. S. House of Representatives & next time likely will go to two (2)) is better which could be one of the reasons the state continues to lose population.

Earl Ray finally called the legislators back to the Mouth of the Elk to make a budget for next year. During the regular session Earl Ray dropped a $92 million short fall bomb on the legislature four (4) hours before they were to vote on the budget and then Broadway Joe's media buddies put blame on the legislators, not his gubernatorial stand in. Speaking of folks down Logan way, the state senator who took Earl Ray's place had a primary opponent & someone worked him over with brass knuckles but the stunt backfired and the incumbent was whupped in the primary.

It was learned that folks were still voting in Wood County at 10 P. M. as the lines were so long and now there is rumbling about problems in Wirt County although few races were close. On the national scene the so called republican establishment "leaders" are still having a hissy fit since their hand picked stoolie got eliminated. Those who are out of touch and out of step oftimes are left in the dust as their fears of no longer being "important" become the new reality. No one even remembers the location of the buggy whip factory. Workers at Wirt precinct 11 said they wanted to thank all the voters there who were patient while they waited, keeping small children under control, etc.

Charles Russell was consulting with the lady Dr. Smith at the Minnie Hamilton Health Care facility which now, with threats of federal demands on employees, wages, benefits & such, has a computer thing to sign in with. Charles received a very good report. Another local resident got an automated telephone call about his visit to the Marietta Memorial extended facility and was advised that the should be in "Bel Pree" at a certain time.

Joe Lantz was calling at the Charles Russell residence. He has been their friend & helper now for 30 years or so.

Russell Stutler, Bessie Arthur & Jean Stutler were all attending to business in Elizabeth.

Some area residents attended the Spring Valley Home Owners meeting as did Trooper Jarvis. Several members paid their dues and plans are afoot to have DEP remove ten abandoned and unfixable trailers & homes.

The Creston Neighborhood Watch had rescheduled the litter pickup for Saturday but it rained, drizzled & rained. Missy Ferrell even came down from Pittsburgh to help but all to no avail.

Jack the Pup is out and about again and was holding down the cushion on the chair on Charles Russell's porch.

Johnna Heater of 3666 Secrest Road, Apt. B-4 of Wooster, Ohio 44691 wanted to wish her grandson Dominick Goodnight of Macfarlan a happy high school graduation and many more good things in life. Johnna will be 73 on June 25 and would appreciate cards as her health continues to fail with one kidney becoming non-functional and under the new "health care" rules she does not qualify for dialysis, etc. She noted that John Grimm has moved to Newark.

Carl Shaffer was attending to business in Creston one day last week.

The price of local Pennsylvania grade crude was $45.21/bbl. with condensate (super drip) fetching $28.21, Marcellus & Utica light $39.71 and medium $45.21/bbl.

"Sam" McKown's folks removed an oil tank from Burning Springs.

The views and opinions expressed herein are those of the author and do not necessarily reflect the views of the Hur Herald.