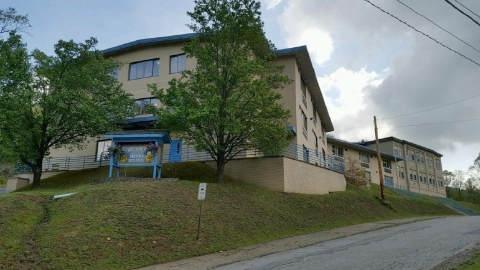 Clay County Middle School
UPDATE 5/5/16 - - Schools in Clay County will reopen on Monday after a threat caused classes to be canceled this week.
West Virginia State Police continue to investigate what school administrators called a credible threat and detailed plans to harm students and staff at Clay Middle School.
Arrests have yet to be made.
School officials say extra security will be at Clay Middle School all day Monday as a precaution.
The superintendent also says the county will have to make up the missed days and the school calendar will now be extended to June 15.
UPDATE 5/5/2016 - Last week Clay County school officials got tipped off from people who had overheard conversations about a Columbine-style attack that Superintendent Kenneth Tanner says were "credible threats" of violence.
Superintendent Tanner says three students were planning to carry out the attack.
"This was very real. This was not something students were doing for attention," said Tanner.
"Had it been carried out, it would have been devastating. Very deadly."
He said it had been methodically planned.
"The plan was to go through classrooms and shoot as many students and staff as they could," he said.
He did not know the students' motive for the alleged threat.
Tanner acknowledged to media that school officials knew the threats were not a hoax. He said school officials made the decision to close schools for the rest of the week based on additional information they'd received Tuesday, but would not describe that additional information.
The superintendent said he believes the students didn't carry out their attack on the April 20th Columbine anniversary because they wanted to recruit more students and get more guns.
"My belief is, if they had their resources, they would have tried it," Tanner said. He said they did have access to "some" guns.
Tanner acknowledged the past week has been "chaos" in Clay County.
He said recent rumors about guns being found at the school, active shooters at the school and bomb threats are untrue.
Tanner told media the student suspects involved were quiet and he never suspected they'd plan something so sinister.
"Very well behaved students. Very quiet - who were methodically planning a devious plot."
Amanda Shelton, a teacher at Clay Middle School, told WCHS-TV in a small town like Clay, rumors fly.
"Once things are out, everybody knows," she said.
Shelton says when parents saw state troopers at the school twice in a matter of days, they started to panic.
"It went nuts, parents were picking up kids and rumors were here and there," much of it driven by social media.
Shelton says a lot of parents were upset, because they feel they've been left in the dark by school officials.
Parents did receive a robo call from the school Tuesday to inform them schools would be shutting down for the rest of the week.
The three students involved have been removed from the school, and State Police are investigating, but charges have yet to be filed.
UPDATE 5/4/2016 - Clay County sources told the Hur Herald that the closing of Clay schools for three days was related to panic created on social media after individuals saw police at local schools, assuming the indication of new threats to the school system.
The initial threats occurred last Tuesday, causing a significant response by school officials and law enforcement.
Posts on Facebook indicated new threats created a significant stir with parents, community members and students.
The situation led to Clay Schools being closed for the week.
UPDATE 5/4/2016 - School has been canceled in Clay County for the rest of this week related to "heightened concerns" from parents, guardians and students following threats, according to Superintendent Kenneth Tanner.
Last week, school leaders were made aware of a threat by students at Clay County Middle School and had received threats related to the anniversary of the Columbine shootings.
West Virginia State Police are investigating, but no arrests or charges have been made in the case.
Tanner is saying that while no evidence of a threat has been received relating to any other school, school officials have determined it is in the best interest of students and parents to close all schools for the three-day period.
During the days off school administrators will be available to answer questions and take phone calls about the situation.
According to the Clay County School's website, "Barring any extraordinary circumstances, classes will resume on a regular schedule for Monday, May 9, 2016."
READ: CLAY MIDDLE SCHOOL TARGETED WITH 'COLUMBINE-TYPE THREATS' - "We Believe Allegations Credible"