By Bob Weaver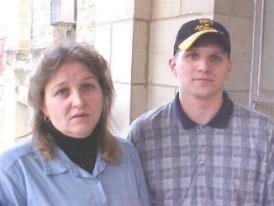 Charlotte Wagoner and son Brian wait outside courthouse for verdict
Nineteen-year-old Melvin A. Shaffer was found guilty of negligent homicide today before a jury in Calhoun Magistrate Court. He was charged in the death of Rodney Wagoner, 44, of Big Bend.
Magistrate Rick Postalwait sentenced Shaffer to one year in jail and fined him $1000 plus court costs. Shaffer was taken to Central Regional Jail, after his attorney Teresa Monk filed a petition to have the circuit judge review the case for a different sentence.
Prosecutor Tony Morgan said Shaffer's truck crossed a double line at a high rate of speed and struck Wagoner's vehicle head-on, killing him instantly. Wagoner's 20-year-old son Brian Wagoner was critically injured, but has recovered from the March 24th incident.
Shaffer's attorney said "Neither side has all the pieces," stating "This crash did not cause Wagoner's death." Monk said Wagoner died because he was not wearing a seat belt. "The ejection (thrown from the vehicle) killed Wagoner," and the crash did "not matter."
Prosecutor Morgan said the seat belt was not an issue, citing the Medical Examiner's report of multiple blunt injuries. "This is not a complicated case," saying it was one of the "most serious misdemeanor trials conducted in this courtroom." He said his many injuries killed him instantly.
Morgan presented a number of witnesses who testified Shaffer was tailgating, driving recklessly, attempting to pass, went left of center, passed on a double line and was speeding. "We have eyewitnesses saying just how senseless this man was driving," he said.
Shaffer took the stand in his own defense, stating his girlfriend deceived him by signing a statement, Trooper Fred Hammack called him a "damned murderer" and he was unhappy with EMS workers who "put marks on me" while attempting extraction.
Shaffer told Prosecutor Morgan he was going 50 to 55 miles per hour when he impacted the Wagoner truck. Other witnesses said Shaffer was going at a high rate of speed from 75 to 90 miles an hour.
Shaffer then stated his steering wheel locked up, essentially no where to go except to hit the oncoming vehicle. Morgan asked the defendant "When did you dream that up, today?"
Wagoner's wife Charlotte said her husband and son had attended church and was returning some borrowed tables when the wreck happened.
Witness Les Parsons, said Shaffer was "riding my ass" before the wreck. "He waited for the double line before he cut out to pass. I told my wife he's going for it." He then said "He's not going to make it," seconds before the collision. "He passed me in a no passing zone."
Trooper Fred Hammack presented a drawing of the accident scene, stating it was clear to him what happened.
The Wagoner and Shaffer families were present in the courtroom during the trial, which lasted into the evening, following a lengthy process of jury selection.
A further account of this trial will appear in The Herald.