A man is behind bars Friday after he attempted to shoot a man inside the home of his ex-girlfriend.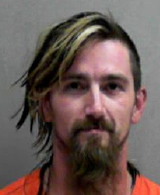 According to the Roane County Sheriff's Department, Lucas Casto, 33, entered the home of his ex-girlfriend and child in Roane County Thursday night while they were asleep.
Once inside the home, he discovered his ex-girlfriend's new boyfriend inside the home.
Casto pulled out a gun and shot at the boyfriend twice, but the gun would not fire. A loaded round was ejected from the gun and left on scene.
Deputies say Casto then fled from the home and disposed of his weapon about 5 miles down the road.
Casto was picked up at the Sheetz in Ripley Friday morning.
He's being charged with attempted murder, wanton endangerment, child neglect creating injury, burglary, and brandishing a deadly weapon.
He is in Central Regional Jail with bond yet to be set.