UPDATE - A Spencer resident, formerly of Calhoun, is being held in Central Regional Jail on multiple charges with bond set at $75,000.

State Police say Tyler Ray Castle, 21, stole a car belonging to William Bruce Woods, and while police were taking the stolen car report, officers were called to Tobacco King on Ripley Road, where a man identified as Castle was allegedly pointing a gun at a man's head.

Castle left the scene and proceeded on WV 14 toward Reedy, with police pursuing, Castle failing to stop.

Spencer Police Sgt. John Caldwell pulled a cruiser in front of Castle's vehicle, ending in a stop.

ORIGINAL STORY: CASTLE FACING EIGHT CHARGES AFTER ALLEGEDLY STEALING CAR (4/21/2016)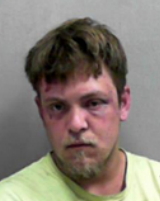 Police have arrested a Roane County man and filed eight charges against him after he reportedly stole a vehicle on Ripley Road (US 33) Tuesday evening.
Central Regional Jail indicates his bond has been set at $100,000 on most of the counts.
Authorities in three counties were looking for Tyler Ray Castle, 21, (left) a former resident of Chloe, the vehicle which he allegedly took was spotted on State Rt. 14.
Castle has been charged with wanton endangerment, grand larceny, assault, obstructing, DUI, fleeing DUI, driving suspended and shoplifting.