Do you find it difficult to read the books and magazines you used to enjoy?

Talk to the local representative at the Calhoun Library Monday, April 18th from 11 a.m. to 3 p.m. about this program or to fill-out an application.

Talking Books is a free program, ran through libraries nationwide, that will send qualifying persons a digital player, and digital audio books, free of charge in the mail. They're easier to use than cassettes or CDs.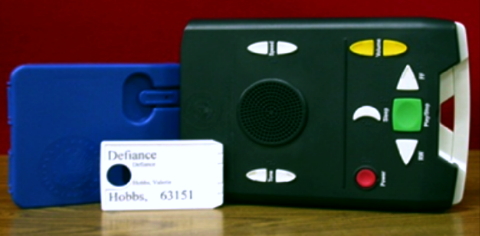 No more searching for the right cassette, flipping, rewinding, etc. The entire book is on one cartridge. Just insert the digital book into the player, push play. It's smaller, less hassle, and double the battery life of a cassette player. Search chapter to chapter instead of fast forwarding. Switch between books and the machine automatically knows where you stopped with each one. How much better could it get? Call in or stop by if you would like more information or a demonstration on the digital books and player. Disabilities do not have to be permanent to be eligible for this program.
Calhoun Library Monday, April 18th from 11 a.m. to 3 p.m.