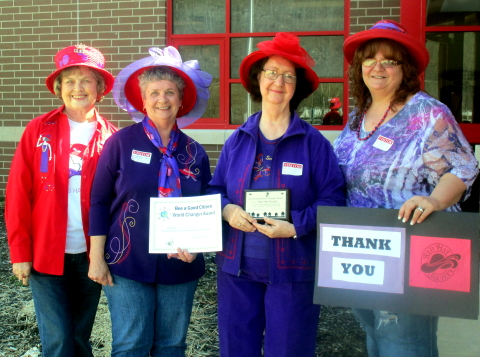 (L-R) Lorraine Bailey, Yvonne Church,
Waneta Boggs-Saunders, Sherry Brown
The Glamour Girls, local chapter of the Red Hat Society was presented on March 23rd with a beautiful wooden plaque that reads "Community World Changer Award" for demonstrating outstanding commitment to the improvement of the local community.
The award was presented by the Arnoldsburg Elementary School Principal, Charles Thomas, on behalf of the second graders. The Glamour Girls were selected due to their donating coats, hats, gloves, sweats, etc. each year to children who can use them.
Lorraine Bailey said, "The Glamour Girls were so excited about the award and thanked the children for thinking of them. They also were given a certificate for being world changers and all of the second grade children signed a large card for the gals."
"The Glamour Girls were so touched by the school children, by not only doing all this for the gals, but by telling us about fund raising projects they all participated in," Bailey said.
"Our county should be so proud of these young people, their teachers, the principal and staff. We were really impressed and certainly happy about everything. Thanks to the school for our wonderful award. We loved the entire program," Bailey said.