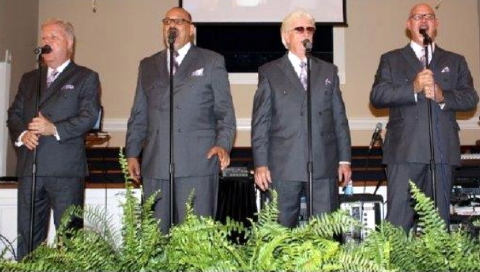 One of the south's best known gospel groups, the
Pine Ridge Boys, will appear at First Baptist Church
in Grantsville, Saturday, April 9th at 7 p.m.
In the 1963, the Pine Ridge Boys began a journey that is still going strong today. Jim Stewart, Wayne Shuford, Charles Burke and Miles Cooper made it their mission to sing quartet gospel music and to do it right.
Well over 50 years later their mission is still the same.
Today, bass singer Larry Stewart (Jim Stewart's son) now carries on the tradition with Wayne Shuford (original member) singing baritone. While Ivory Luke singing tenor with Duane Rizzo handling the lead vocals.
The Pine Ridge Boys are known for a rich quartet sound that captivates an audience and arrangements that share the true heritage of southern gospel music.
From an old convention song to a heart stirring gospel ballad, the Pine Ridge Boys stage gospel music with excitement, passion and a mission to reach people with a positive message.