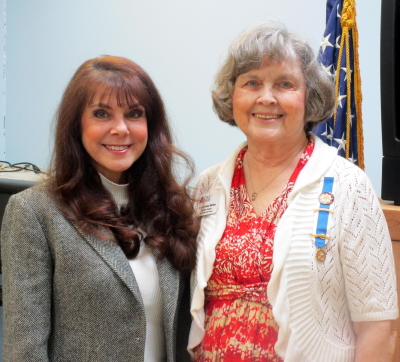 Dolly and her mother, Lorraine Bailey
Dolores T. Starke of Arnoldsburg, WV, was welcomed into the National Society Daughters of the American Revolution on March 16th, 2016.
She was inducted under the Patriot, Aaron Smith, one of the first settlers of Smithville, which was named in honor of him. Joshua Smith was among the first settlers of Calhoun County. Dolly's mother, Lorraine Bailey, and aunt, Virgle Harris, are also members of DAR.
Dolly is a Special Education teacher at Calhoun County Middle/High School. She graduated from Fairmont State University with a Masters Degree in Education and also holds a Bachelor of Science Degree in Business Administration from Robert Morris University. She graduated with honors from both universities.
Prior to embarking on a career in education, Dolly was employed as a manager with one of the largest and most productive real estate companies in the country. She assisted in the start-up of the company and enjoyed witnessing its growth and success. Dolly also spent many years as a Security Analyst. She was responsible for writing security manuals, implementing security plans, and inspecting secure sites.
She trained employees in the management of classified documents and processed security clearances for those employees. She was employed with several government contractors and worked on various government facilities including NASA, Kennedy Space Center, Cape Canaveral, Patrick Air Force Base, two submarines, and the island of Antigua.
Dolly is originally from Pittsburgh, PA and has four children living in Florida. Her oldest, Brian, graduated from Florida State University and is employed as a graphic design artist with an advertising agency in Tallahassee. Her second son, Brandon, lives in Weston, Florida and is attending Florida International University. He is also employed as a nutrition consultant in a health food store. Jason is currently traveling around the United States after having attended the University of Central Florida. Last, but certainly not least, her daughter, Cassidy, who is headed to college, but has not yet pledged her allegiance. Dolly also has a brother, Ronald Traversari, who still resides in Pittsburgh, PA with his wife, Barb.