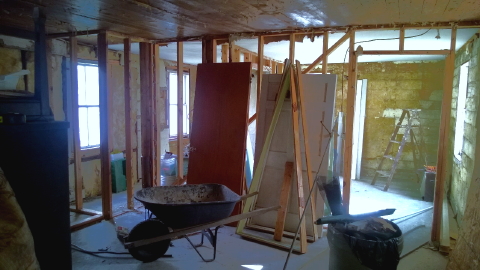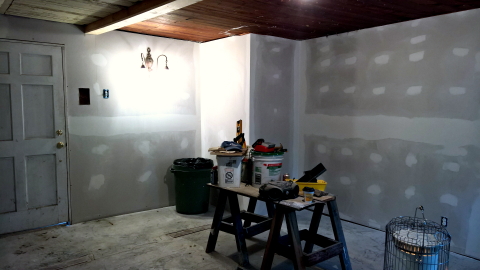 Photos show progress of renovation done by Calhoun
Historical Society members and volunteers. Before and
after - the Hotel lobby in March 2015 and March 2016
The Calhoun County Historical Society had a work party at the Stump Hotel on Main St., Grantsville, March 19.
Drywall joints were sanded, trash was disposed of inside and outside, tacks were removed from the lobby ceiling, the parlor was readied for insulation, trim was painted, and a hole was dug for another post to display additional veteran's banners.
Future plans call for finishing repairs on windows, painting the dining room and lobby (the kitchen has already been painted), putting up wallpaper and trim, and tackling the flooring.
Saturday's crew included, Roger and Linda Jarvis, Larry and Vickie Baker, Richard Welch, Maricia Mlnyek, Mellody Walburn, Terry Harris, Boy Scouts Danny and Jesse Kargol, and Bob and Karen Bonar.