Two area women, Patty Cain and Martha Harris, received ribbons at The 12th Annual Blennerhassett Heritage Quilt Show on March 12th at the Blennerhassett Museum. Eighty-seven quilters from the tri-state area, competed in eight categories: bed, wall, crib, duet, group, antique (pre-1950's), other (mixed, special, applique) and this year's theme, "Scrap Happy".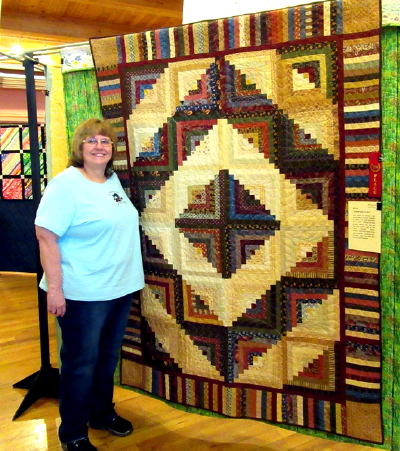 Patty's quilt, "Lincoln Logs", was entered in the "Scrap Happy" category. The quilt, winning a second place ribbon, was pieced using over 75 different fabrics in the Log Cabin design called Barn Raising.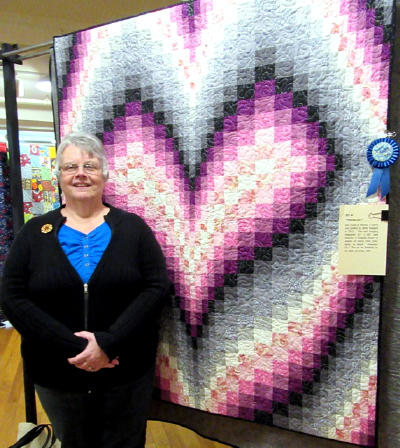 Martha's wall quilt, "Proverbs 23:7", features a Bargello heart in shades of colors from pink, white to black. Martha's entry won a first place ribbon in the "Wall Quilt" category.
Both Patty and Martha's quilts were machine quilted by local machine quilter Shirly Badgett of Yellow Creek.
Patty and Martha are members of the WV Quilter's Guild and the Unbreakable Threads Group. The Unbreakable Threads Group meets at the Five Forks Fellowship Hall at Five Forks, WV.
The Blennerhassett Heritage Quilt Show, sponsored by The Friends of Blennerhassett will be open during normal museum hours, Tuesday-Saturday 11 a.m. - 5 p.m. and on 1 p.m. - 5 p.m. Sunday. Admission: $4 adults and $2 for children 3-12. The museum is located in Parkersburg, WV on the corner of Julianna and 2nd Street.
Patty and Martha encourage everyone to go out and see the quilt show. This year's show has many beautiful quilts on display. Quilts that show that the quilting heritage is alive and going strong in West Virginia and the tri-state area.