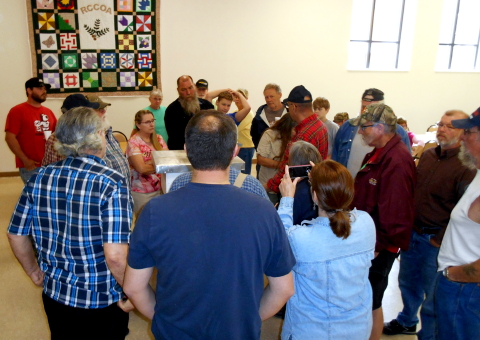 WCBA members learn how to install bee packages into
a beehive from Dale Cunningham and David Tatterson
Submitted by Al Darman
The WCBA April meeting was attended by over 60 members and guests.
Judy Kerns reported that the T-shirt delivery had been delayed due to illness in the family and to the work load of the provider. More information will be available at the May meeting.
Eligible members received their sugar pick-up cards in the mail and were reminded to pick-up the sugar at Wal-Mart after the meeting.
Dale Cunningham reiterated the eligibility rules for cost sharing: for 2016, participants had to be members in good standing and have attended at least 4 meetings in 2015.
The members voted to apply for a PACF Grant to include cost sharing for bees, bee food, and medication for next year.
The annual field day will be held, weather permitting, 6/25/16 (fourth Saturday in June). Thanks to Larry and Marianne Siers for again volunteering their farm for the outing. Wade Stiltner, WV State Apiarist, will be the main speaker.
Dale Cunningham reminded the members of the beekeeping classes to be held in Newton Community Center June 11, 18 and 25. The course costs $35 and veterans may be eligible to apply for cost reimbursement. The contact person is Amy Edens of the WV Department of Veteran's Assistance at 304-927-0980.
Brenda Tatterson updated the members on the status of the Spencer Honey Show which is scheduled for Friday, July 29, 2016 at the Spencer Community Building from 10:00 am to 7:00 pm. Members can rent tables to sell their honey related products. It was noted that honey and honey products must be labeled properly. Rebecca Taylor volunteered to assist members in printing labels. Also, Brenda noted that several local businesses are donating food. Members interested in helping should contact Brenda at 304-927- 4634.
Bee packages will be delivered in early May. The pick-up location in Spencer will be the parking lot behind the FNB building, in Arnoldsburg at the community center, and in Ripley at the commuter parking lot. Pick-up date and times will be provided later.
Dale Cunningham asked if there was interest in obtaining fruit trees and the membership indicated there was. Dale will pursue with Simms Nursery.
The next meeting of the WCBA will be May 28th at 1:00 at the COA building in Spencer, WV. The public is invited.