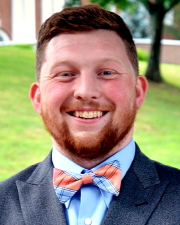 Glenville State College senior studio art major Quentin Murphy from Grantsville, West Virginia is getting ready for his senior art show.

Murphy is a 2011 graduate of Calhoun High School.

The exhibition will begin with an opening reception on Monday, April 4th at 6:00 p.m to midnight at the Fine Arts Center at Glenville State College, and will be on display until Friday, May 7th.

"Picture your life as a huge wall of canvas at least 20 feet high. It's blank and white, absolutely chills your soul about the possibilities that it could hold. As you take your first stroke of paint and begin the picture you start to see a finished piece."

During this time your paint strokes will be chaotic, you'll run out of paint and you will even feel discouraged. Until someone comes along and notices what your life has been painting. It's when you realize what the finished picture will hold. Paint your life; it's a blank canvas," said Murphy.

Murphy said "Art is life, it begins with the creative process of finding yourself. At that moment is when you realize your potential of making your life and everyone's life around you a life worth living. That defines art. It becomes Larger Than Life."

Live music, free food, beer and wine for 21 and older will be provided during he reception.

The gallery is open Monday through Friday from 10:00 a.m. until 2:00 p.m. and one hour before all Fine Arts Department musical performances.

For more information contact Associate Professor of Art John Selburg at John.Selburg@glenville.edu or call (304) 462-6346.