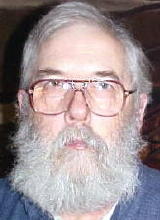 By Alvin Engelke
alvinengelke@hotmail.com

Rev. Lee Williams brought the message & served Holy Communion at the Burning Springs M. E. Church.

Spring like weather has again returned to the Creston area with hairy bittercress in bloom, spring peepers peeping & birds singing their little hearts out.

Breia Cooper, age 35 of Hardman's Fork (of Big Rowell) died suddenly. She was a daughter of Lewis Dale (Windy) & Emma Cooper.

Euell Russell was crowned King of the St. Valentine's Day festivities at the Miletree Center. Residents there report that he has been caught smooching the Valentine Queen, Nancy Moss and Paris Parsons said there were even rumors of nuptials. Workers at the facility noted that Euell was doing much better with his walking, now that he has a comely goal & heartthrob. Their picture was in the Spencer newspaper. Brother Charles was checking on "old Romeo" and when asked about details, Euell would just smile.

Those who have been following the machinations of the W. Va. legislature remain appalled at their antics. One fellow noted, "They, the republican leadership, must be trying very hard to make sure that the democrats control the body for the next 80 years." A brief summary reflects the concern. There is a bill that would make it almost impossible to sue someone who "ruins your life, acts obnoxious, destroys the state roads, covers your property with dust, fills your air with fumes, shines bright lights into your home all night for months", etc. Antero has something over 200 suits against them & there is a bill pushed, in part by Sen. Corey Palumbo, to banish such legal actions and it was found out he was being paid by Antero to take property away from state citizens in Doddridge County. Another bill, pushed "to show that W. Va. is business friendly" would allow those who want your property or rights-of-way to come on your land and survey without your permission after mailing you a letter. This after last session strict new trespass laws were passed. Then there was the bill to outlaw the suit Law vs Heck Oil Co. which says one cannot drill on your minerals without a lease. It was noted that the "leadership" pushed this bill to punish the "Liberty Caucus" otherwise known as the Tea Party Republicans who are obviously loathed just like on the national scene where those who are upset with the likes of Boehner, Ryan, McVain, McConnell, little Jebbie & Co. are mocked.

Mitch Carmichael, the airhead senator from Jackson County, said "You farmers have to get out of the way, we are moving the state forward and we want to follow with EQT." It would seem that he believes their lobbyist that if they don't get their way they will take their drilling rigs and go to Pennsylvania even though the best prospects are in West Virginia. Carmichael described Antero "some of our best corporate citizens" while Antero reported that have similar suits in Colorado, Ohio & Pennsylvania in their SEC filings. One of the EQT men said, "You'd better go along or other wise we'll make your farms look like pincushions; we have the right to destroy all that you own." Another said to the EQT lobbyist, "You are lying, you are not going to drill a bunch of vertical wells; it's not cost effective."

The EQT man was said to have become upset at being called on his bluff. One legislator who has EQT wells on his land said, "I hope they go and perhaps they can pull up their old wells and take them with them." Hank Lawrence a 'legal heavy" hired by Antero said their operations helped national security and helped protect Europe from Putin's Russian gas blackmail and that it was a small price to pay for folks farms, homes, etc. to be ruined. Not to be overlooked is the forced pooling bill which takes minerals for the benefit of the big boys and allows them to hide the prices and amounts of products produced. It has been made clear that those who vote with the out of state boys and punish W. Va. citizens will be voted out of office regardless of political stripe. That was happened in Pennsylvania when the "leadership" there slipped the EQT bill in at the last minute. The boys were wheeling & dealing at the Mouth of the Elk over the weekend so keep close contact with your favorite legislator.

It is reported that Chesapeake has sold a substantial part of the holdings to Haymaker and another group with some Denver based investors. It was noted that the average price Chesapeake was paid for crude oil was $64/bbl. The price of local Pennsylvania grade crude fell to $31.78/bbl. with drip fetching $12.78, Marcellus & Utica light $25.78 and medium $31/78/bbl. It was reported that Putin hopes Madame Hillary wins for he fears that the Donald, like Ronald Reagan, before him will wage economic war on Russia and last time America won.

The big windbags of the ruling cartel are furious that the peasants have rebelled against them and they fear losing their clout and source of immense wealth. With people elected who are not obligated to the cartel real cuts in the federal government can happen easily. After all, why do we have to be told that we cannot buy & use 75 watt light bulbs? Where in the U. S. Constitution does it say that we must mind such tin horn dictators? Who, aside from Jebbie Bush whose company profits from common core, says the federal government has any place in the education of the nation's youth?

An example of crony capitalism and why the federales go ever deeper in debt is on display right now in Elizabeth. A $5 million welfare housing project is being built in Elizabeth with taxpayer funds from the Dept. of Agriculture and other federal & state agencies. Once built the welfare kings & queens will have their rent & utilities paid by the taxpayers and the property will provide income for some investors in Columbus & Indianapolis. They in turn can give donations to senators & congress critters to maintain the robbery of ordinary taxpayers. Some wonder where the new residents will come from. Some suggest foreign residents, like the so-called refugees or residents of Baltimore, Detroit, etc.

Tom Potts who formerly worked in the sign shop is the new road boss in Roane County.

The views and opinions expressed herein are those of the author and do not necessarily reflect the views of the Hur Herald.