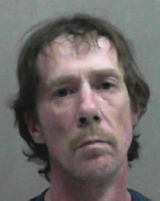 A Sassafras Ridge, Arnoldsburg man is facing multiple charges related to domestic battery and assault charges.

Richard Allen Talley, 48, was charged by Sr. Trooper D. C. Moore on February 20, with assault and battery on James Hardman of Right Rush Run near Orma.

The criminal complaint says Hardman said that Talley struck him multiple times in the face and head, "kicking and throwing tools at him," when he tried to get away from Talley.

Trooper Moore, in the complaint, said he observed multiple injuries to Hardman's body, with a witness collaborating Hardman's statements.

Talley was arrested earlier in February on domestic assault and battery charges filed by his ex-wife.

In statements given to Chief Deputy Jeff Starcher, the victim said, according to the criminal complaint, that Talley on more than one occasion threatened and assaulted her.

According to that complaint, he grabbed her, "dragged her down the hall by her shirt collar into a bedroom," after which he threw her down on the bed and put his hand around her throat.

The woman's statements were corroborated by a witness.

Talley is currently in Central Regional Jail for violating his bond.