Calhoun Schools Director of Finance resigned Monday at a meeting of the Calhoun Board of Education, effective March 1, to become the financial officer for Gilmer Schools.

Minney said he will remain as treasurer of Calhoun Schools until a replacement can be found for him.

In response to Herald questions about the treasurer's position, Minney said, "There was no hire and there was no position created," saying the two are different positions.

Minney indicated the treasurer's position is under statutory law for each county, and he did not resign from treasurer's position, essentially to keep the county from naming an interim treasurer.

Minney said there will be no pay associated with the Treasurer position.

"There was conversation about Calhoun reimbursing Gilmer for time I might spend with Calhoun issues. However, at this time I do not think that will be the case," Minney said.

He said, "Gilmer County is aware that I want to help transition Calhoun County and they are in support of me helping out when necessary and do not anticipate asking for reimbursement."

Minney did say, "I think your article concerning my resignation (below) was very misleading. To insinuate that my departure has anything to do with the contract awarded to the Superintendent is simply unprofessional and does not help with the already exaggerated public perception of what is going on in the school system."

"My professional decision had nothing to do with any recent decisions rendered by the board of education," he concluded.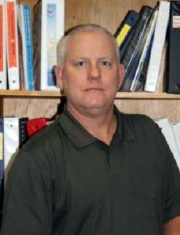 ORIGINAL STORY 2/22/2016: CALHOUN SCHOOL'S CHIEF FINANCIAL OFFICER MINNEY RESIGNS - Calhoun Commission, School Officials At Odds Over Deficit Reduction
Within a week after the Calhoun School Board voted 4-1 to give current school superintendent Tim Woodward an extended three year contract with a pay raise, the school system's chief financial officer Dan Minney (left) has resigned.
Minney's resignation was on the agenda at Monday night's school board meeting. It is unclear about the effective date.
Minney is reportedly becoming the CFO in Gilmer Schools, with reports indicating he will continue to do work for Calhoun Schools.
Minney has tried to help navigate the Calhoun school system out from under a deficit of about $1.8 million, while sources say that deficit could be exceeding $2 million.
Minney and other school officials, attending a recent Calhoun Commission meeting, indicated the systems financial problems were so complicated that PILOT money (payment in lieu of taxes) proposed by the commission could not be guaranteed to eliminate the deficit.
READ: CALHOUN SCHOOL BOARD GIVES SUPERINTENDENT WOODWARD THREE YEAR CONTRACT - Calhoun Commissions Proposed Columbia Tax Money To Reduce Deficit "Complicated"
The Calhoun Commission has hired a tax attorney to continue to review Columbia Pipeline's tax proposal, and is reaching out to the WV Department of Education's financial chief Joe Panetta.
School officials, in recent days, have expressed their displeasure with the Calhoun Commission, apparently over the commission's reluctance over the issue.
Commissioner Kevin Helmick said recent statements by school officials has changed the focus from the key issue, "The commission wanting to help the Calhoun school system and county students by reducing their nearly $1.8 million deficit."
The commissioners have gone on record they feel it is a responsible position to help Calhoun School's financial plight. If the regular tax method of a 65%/35% split (schools getting 65%), Calhoun schools will be penalized by the state with a reduction in their school funding formula.
Commission president Bob Weaver, during the commission meeting, asked school officials if the regular tax formula is used, "Will they just get a peanut?" They confirmed that would be the case.
School board president Steve Whited has asked to be placed on the next commission meeting agenda to voice his concerns.