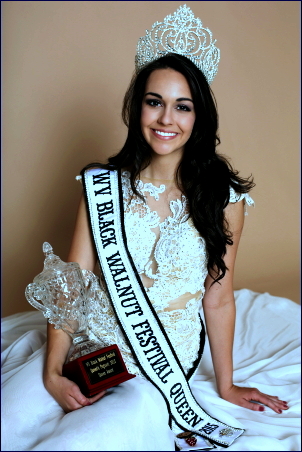 The West Virginia Strawberry Festival has announced Dominique Collins of Normantown as the 2016 Strawberry Festival Queen.
The West Virginia Strawberry Festival kicked off in 1936 as a way to honor strawberry growers. The festival gave growers a place to sell their berries. The first Strawberry Festival was celebrated in 1 day and as years passed, the events of the West Virginia Strawberry Festival grew into a full week.
The Strawberry Festival is held annually the 3rd week of May in Buckhannon, Upshur County. This year's dates are May 14th through 22nd..
Collins will be crowned on Saturday at 1:30 p.m. at Wesley Chapel on the campus of West Virginia West Virginia Wesleyan College. This will be the 75th festival, the Diamond Jubilee.
She was chosen as the Black Walnut Festival queen last year.
Collins made her debut in pageantry over twelve years ago. She has held state and national titles over the years.
She placed 3rd runner up at the Miss West Virginia Teen USA pageant in 2013. A year later representing the West Virginia Strawberry Festival as she competed in the Miss West Virginia USA pageant where she finished 3rd runner up.
Collins is the daughter of David and Kelli Collins of Normantown. She is a 2014 home school graduate.