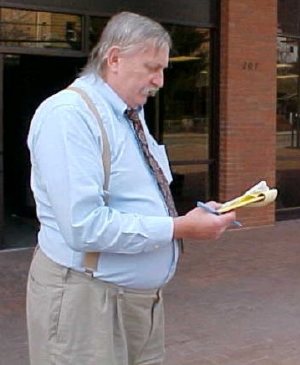 Novobilski in front of Clay Courthouse
(Clay Communicator Photo)
A longtime Clay attorney and public defender in the area, Jerome Novobilski has died.
Novobilski spent several decades in Clay County.
The Clay Communicator reported that Novobilski was never one to command the spotlight, his dress clothes a pair of tan pants held up with suspenders, long sleeve dress shirt, and tie.
He was an avid photographer, taking pictures of every festival and fair in Clay County.
The Communicator reported, "Last Thursday morning he was seated in the Circuit Courtroom before the Isaiah Murphy trial. His normal slicked back white hair was not combed and he didn't talk. Quietly he slowly made his way out the double doors."
He was found dead in his parked car Tuesday morning in Clay, apparently heading to the courthouse.
Novobilski, 69, of Clay, was born on May 22, 1946, in Jersey City, N.J., the son of the late Andrew and Frances (Kushpa) Novobilski. He was a longtime Clay county attorney and public defender for the area.
Jerome is survived by his brother, Edmund Novobilski; sister, Elaine Arendt and a host of family and friends. A memorial service will held 2:00 P.M. Sunday, February 21, 2016 at Wilson-Shamblin-Smith Funeral Home, Clay.