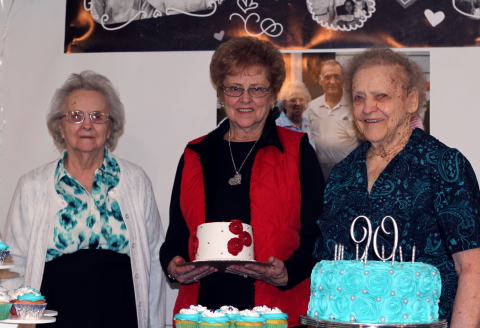 (L-R) Neva Kendall, Nelma Wimer, Lorene Weekley
Lorene Carter Weekley celebrated her 90th birthday surrounded by her family and friends on Sunday, Valentines Day, at the Grantsville Senior Center.
Born at Nicut WV on February 14th 1926 to WR "Bob" Carter and Amy (Marks) Carter, she is the third of four children, all of whom survive.
Her eldest sister Neva Kendall, formerly of Elmira, WV now residing in Parkersburg, and youngest sibling Nelma Wimer, of Talmadge, Ohio joined her for the celebration.
Their brother William Hubert "Bill" Carter formerly of Barberton Ohio, now of Atlanta Georgia was not able to travel for the event, but joined the celebration via "Facetime" where he was able to visit with his three sisters and welcome his third sibling to their "plus 90 club".
Guests traveled from Northern, Western and Central Ohio, Western, Central and Southern West Virginia and as far away as Texas, in spite of impending inclement weather, to deliver best wishes and a cheer filled afternoon to a most deserving Guest of Honor.
Nearly one hundred visitors filled the Center's hall for the celebration.
Food for the event was provided by Colombo's Restaurant in Parkersburg, WV with the Cake and Cupcakes from Caitlin Weaver of Grantsville.
Food Service was provided by Culinary Students from the Calhoun Gilmer Career Center's Culinary Program.
The family would like to extend its deepest gratitude for all the cards, calls, gifts, and good wishes expressed throughout her 90th celebration.
They would expressly like to thank those family and friends whose kind and gracious presence overwhelmed a kind and deserving lady.